CSU faculty and students march on Capitol after tuition fee hike passes
By John Ferrannini and Carlo Marzan
Students and members of the California Faculty Association marched on the State Capitol on Wednesday to support three higher education bills currently in the State Assembly in the wake of last month's tuition increase.
The rally, which was attended by Assemblyman Kevin McCarty, D-Sacramento, among other legislators, was organized to support three bills in particular.
The first is Assembly Bill 393, which would freeze tuition at all public universities and colleges through the 2019-2020 academic year. That bill was introduced by Assemblywoman Sharon Quirk-Silva, D-Fullerton and would essentially nullify the tuition hike.
Assembly Bill 21, introduced by Assemblyman Ash Kalra, D-San Jose, would establish additional protections for undocumented students at institutions receiving Cal Grants.
Assembly Bill 1464, introduced by Assemblywoman Shirley Weber, D-San Diego, would mandate that California State University faculty be 75 percent tenured or tenure-track by 2025.
The rally was organized as part of Lobby Day, an opportunity for CSU students and faculty to speak with state legislators and their staffs. (Story continues below)
California Faculty Association rally together for better education funding at state Capitol @CFA_Newspic.twitter.com/JG1JwyvY1r

— Carlo G. Marzan (@SultanKoY) April 5, 2017
"We've already met with four different assemblymembers," said Charles Toombs, an associate vice president of the CFA and a San Diego State University professor. "Faculty and students are here to support legislation to help students."
Aisha Alshabazz, a senior at San Diego State, came to Sacramento to participate.
"Luckily I'm graduating this semester, but if I wasn't, I would be affected by the tuition increase," she said. "It's affecting our communities and impacting CSU students."
The protesters listened to speakers, including McCarty and Karla, beginning at 11:30 a.m.
"Our CSU faculty members are on the front line not only of teaching but of advocating for more funding and access," McCarty said before the rally.
McCarty has been spearheading a proposal of his own, the "Degrees Not Debt" scholarships.
The scholarship — which for CSU students would be worth $21,000 per year, the average annual total cost of attending a CSU when expenses beyond tuition are included — would be available to students in families making up to $150,000 per year.
Students would have to work 15 hours a week year-round to participate. Students whose families make between $60,000 and $150,000 would pay a portion of it depending on income level. Students whose family income is over $150,000 would not be able to participate.
McCarty praised the fact that there have been so many bills and proposals introduced intended to address the rising costs of college.
"There's a bill for free college and a tax increase, there's (the 'Degrees Not Debt') proposal, there's a Republican bill in the Senate," McCarty said. "I think the more people talking about college affordability, the better."
The demonstrators marched from the Old Rose Garden on 13th and L streets to the State Capitol.
Representatives from all 23 CSU campuses were present at the rally. Both faculty and students of the various CSU's showed their support for increased funding in education and emphasized that everyone should have access.
Chants of "Education, not deportation" and "No cuts, no fees, education should be free" rang throughout the city in an attempt to bring awareness to CFA's cause.
"A lot of people were approaching us from the crowd, then again we were in a public place which was completely fine," said Sac State student Kendra L. Rivera. "Of course there were some negative people intruding, but that didn't stop us from rallying."
Once the rallying was finished, CFA members and students returned to their lobbying efforts with legislative staffs.
"Lobbying was such an amazing experience, being able to relate to many people who are of minority groups," Rivera said. "I feel very happy that we were happy to have our voice heard." (Story continues below)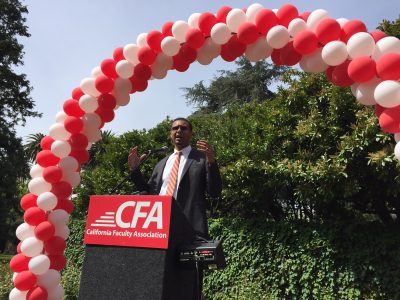 Djibril Diop, the director of government relations with the California Faculty Association, said that the day went well.
"We had some pretty good visits, the report that I got from the faculty members and students were that there was a lot of support for AB21 and AB393," said Diop. "You heard the legislators talking about it today, so it's a good indication of the support we're going to get for the billing for those bills."
The March tuition increase is the first in six years and raises tuition by $270 for in-state undergraduate students. Proponents said it was necessary because of a $168 million shortfall between Governor Jerry Brown's budget proposal for the coming year and the CSU's tentative budget.
However, it did pass with the proviso that if the state legislature made up the shortfall the tuition increase would not go into effect.
McCarty was ambivalent about supporting that idea.
"Obviously, we'd support that if there was an unlimited pot of money but we have to evaluate the money and live within our means," McCarty said. "When we see the May revision (of the budget) we can take a look."
UPDATE: Wednesday, April 5 at 10:08 p.m. — This story has been updated to include quotes from Djibril Diop and Kendra Rivera, as well as more information about the protest march.

UPDATE: Wednesday, April 5 at 6:22 p.m. — This story has been updated to include a more recent photo of the marchers.