Burcham helps lead Israel to World Baseball Classic success
It was a tie game between South Korea and Israel, and former Sacramento State baseball player Scott Burcham stepped up to the plate with an opportunity to win the first game of the World Baseball Classic.
Burcham, who played shortstop for the Israeli National Team from Sept. 22 to March 15, delivered by breaking the tie with a game-winning RBI single in the 10th inning of the 2017 WBC opener at the Gocheok Sky Dome in South Korea on March 6.
"It was an awesome and unreal feeling to finally push that game-winning run across," Burcham said. "It was huge for us to start out that tournament with a win."
Both teams had scored a run a piece in the game, but were deadlocked (1-1) since the end of the fifth inning until Burcham's go-ahead hit. Israel won the game by a final score of 2-1, and it was just the start of the team's unforeseen run in the WBC.
Burcham, who played for the Hornets from 2012-2015, helped Israel win the WBC qualifiers last September in Brooklyn, New York and was later named to the final roster in early February.
"Once Alex Bregman (of the Houston Astros) and Ian Kinsler (of the Detroit Tigers) were announced to the USA team, I felt confident that I would make the Israeli roster," Burcham said, after explaining that both players are of Israeli descent. "I felt relieved, but really excited at the same time."
After Israel's opening win over South Korea, the team proceeded to go undefeated in its pool with victories against Chinese Taipei (15-7) and the Kingdom of Netherlands (4-2).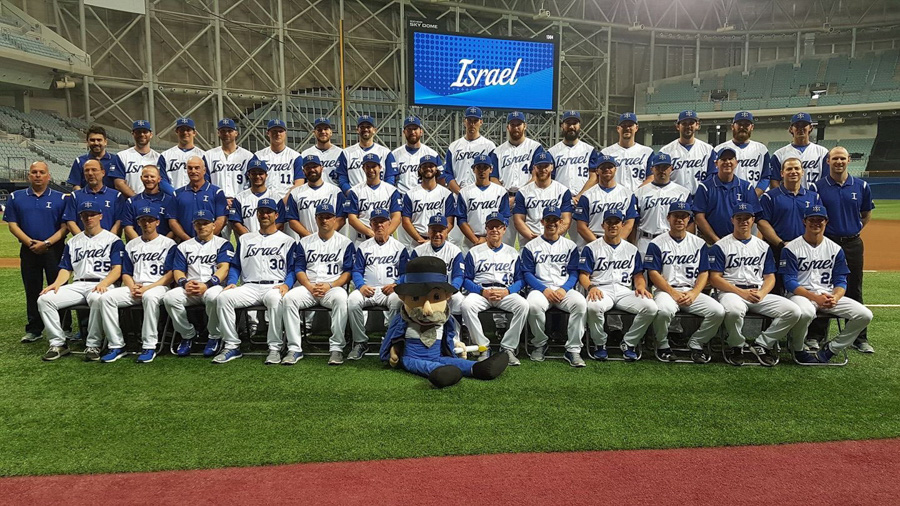 ESPN had Israel listed as the 14th best team (out of 16) in its 2017 WBC power rankings and Sportsbooks gave Israel the lowest odds to win the tournament (+20000). Yet, not once did Israel consider itself an underdog, Burcham said.
After exiting Pool A undefeated (3-0), Israel advanced to Pool E — where it faced heavyweight countries such as Japan, Cuba and Netherlands. Israel extended its winning streak to four games after a 4-1 victory over Cuba, but dropped its next two games in Pool E to Netherlands (12-2) and Japan (8-3).
"There was nothing to hang our heads on," Burcham said after the loss to Japan ended Israel's WBC campaign with a 4-2 record. "We faced some really good teams in the second round and we made it further than many expected."
Burcham, who played last season for the Colorado Rockies' single-A affiliate, said the WBC allowed him an outlet to express his devotion to the game and create a bond with players devoted to winning. Fellow Israeli teammate, pitcher Dean Kremer, developed a friendship with Burcham over the past seven months and the pair have been in contact on a daily basis since the end of the tournament.
"We had a lot of older guys with some big league time that took on the leadership roles," Kremer said. "But even as one of the younger guys on the team — (Burcham) stood out. He's not a big talker, but he knows how to get things done."
Burcham, 23, finished the tournament batting .261 with two RBIs and a 1.000 fielding percentage. Israeli assistant coach Nate Fish noted that Burcham had an impact in every game.
"He is just one of those guys that keeps coming through in big situations and keeps making plays on defense," Fish said. "It gave our pitching staff a lot of confidence knowing Scotty was at shortstop."
Burcham had friends and family rooting for him as they watched him play in the WBC on television. Even his former coach at Sac State, Reggie Christiansen, made sure to tune in despite the concurrent regular season for the Hornets' baseball team.
"I woke up early a lot of times to watch," Christiansen said. "One of the road trips we got home at like two in the morning and the game had just started, so we watched some of it."
Christiansen said he was pleased to see an underdog like Israel make a run in the tournament and to watch a group of professionals care about winning so much.
"I think it just goes to show that baseball isn't always about talent," Christiansen said. "It's about a group coming together and making winning important."
Burcham's new focus is working his way toward the majors as he will start the 2017 season for the Colorado Rockies Class-A advanced team, the Lancaster JetHawks on April 4.
"The WBC Tournament gave me big league experience, so that should only help me develop," Burcham said. "It was fun to play in an environment where winning meant everything — it reminded me of college."