Men's basketball team eliminated from conference tournament by Eagles 89-70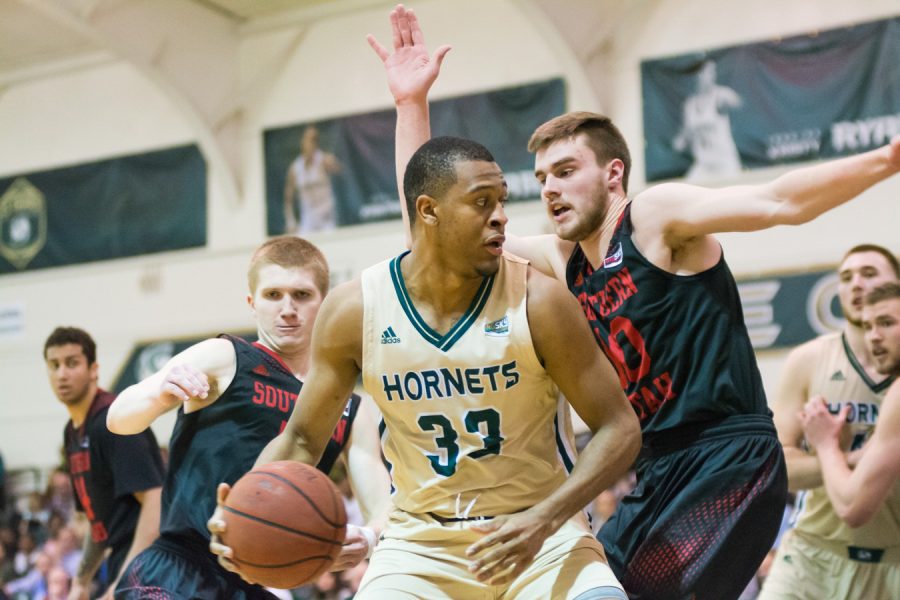 The Sacramento State men's basketball team was eliminated from the Big Sky Tournament Thursday night after suffering an 89-70 loss in the quarterfinals to Eastern Washington in Reno, Nevada.
This was the second consecutive year that Sac State (13-18, 1-1 Big Sky Tournament) advanced to the quarterfinals, but failed to advance past that point.
Sac State was led in scoring by junior guard Marcus Graves, who had a game-high and career-high 29 points. Junior forward Justin Strings had 12 points and senior forward Nick Hornsby contributed seven points for the Hornets.
Sac State shot just 38 percent from the field in the first half, while allowing Eastern Washington (22-10, 1-0 Big Sky Tournament) to shoot 54 percent. The Hornets failed to capitalize on 19 first-half free throws, only converting eight of them.
"The fact that we were 21-for-36 from the free throw line played a big factor," Sac State coach Brian Katz said. "We've been our own enemy when it comes to free throws."
Sac State trailed Eastern Washington 31-15 with 6:39 left to go in the first half, but Graves — who scored 14 first half points — led the Hornets on a 10-1 run and the Eagles' lead was cut to 32-26 with 2:43 left. Graves received a technical foul while the Hornets were down by six, which helped the Eagles respond with an 8-1 run to close the first half at 40-27.
Sac State started out the second half on a 13-6 run within the first four minutes of the half and only trailed 46-40 with 16:24 left. However, the Eagles put up a 20-6 run and took a 66-46 lead with 7:36 remaining in the game. Over the course of those nine minutes, the Hornets did not score a field goal, only converting free throws.
"We let some things slip away," Graves said in regards to the team's second half performance. "We missed some easy shots down low and had some defensive breakdowns which were caused by our offensive frustrations."
Eastern Washington was led in scoring by senior forward and Big Sky Conference Most Valuable Player Jacob Riley (9-of-9 from the field) with 24 points. Junior forward Bogdan Blizynuk also added 18 points for the Eagles.
"Those are two all-league players that played like it tonight," Katz said. "I thought that the last time we played (Eastern Washington) we did a good job on (Blizynuk) but tonight I don't think we did. Wiley is a great player as well, which is why he was league MVP."
After eliminating Sac State from the Big Sky Tournament, Eastern Washington will next play Weber State Friday at the Reno Events Center. The game is set to tip off at 8:05 p.m.
The Buzz:
Sac State senior center Eric Stuteville became the first center in program history to reach 1,000 career points (1,013) and just the 14th overall player to meet that milestone.
Hornsby owns the Hornet Division I era (1991-present) career record for rebounds with 723.
Strings, who was named to the all-Big Sky second team, is only eight points away from reaching 1,000 career points and Graves became the seventh player in program history to reach 300 career assists (305).