Softball team edged by UC Davis in home opener 4-3
On an afternoon that featured a 30-minute rain delay, the Sacramento State softball team battled the weather and rival UC Davis, falling 4-3 in its home opener Tuesday at Shea Stadium.
The Hornets were able to put together a two-out rally after back-to-back doubles by sophomores Nene Alas (outfielder) and Sydney Rasmussen (shortstop) in the bottom of the seventh inning, but left the game-tying run stranded on second.
"We started off pretty slow up until the fourth inning," Rasmussen said after going 2-for-4 and collecting two RBIs. "We were hitting solid late — (the balls) just weren't falling into the places we wanted them to fall."
The Aggies jumped out to a quick 2-0 lead in the first inning after a trio of singles and a throwing error by Sac State senior center fielder Shelby Johnston. The Hornets were able to score a run in the bottom of the second but UC Davis answered with one run each in the fourth and fifth innings — one due to another Sac State fielding error.
"You take away the two errors, it's probably a 3-2 ball game," Sac State coach Lori Perez said. "We beat ourselves — we made mistakes that offensively we weren't able to overcome and they were able to capitalize."
Junior Celina Matthias started the game for the Hornets and pitched a complete game — giving up eight hits, two earned runs and striking out four batters. Matthias was outdueled by UC Davis' starting pitcher Katie Kibby, who pitched five innings, struck out three and held the Hornets to two hits through four innings.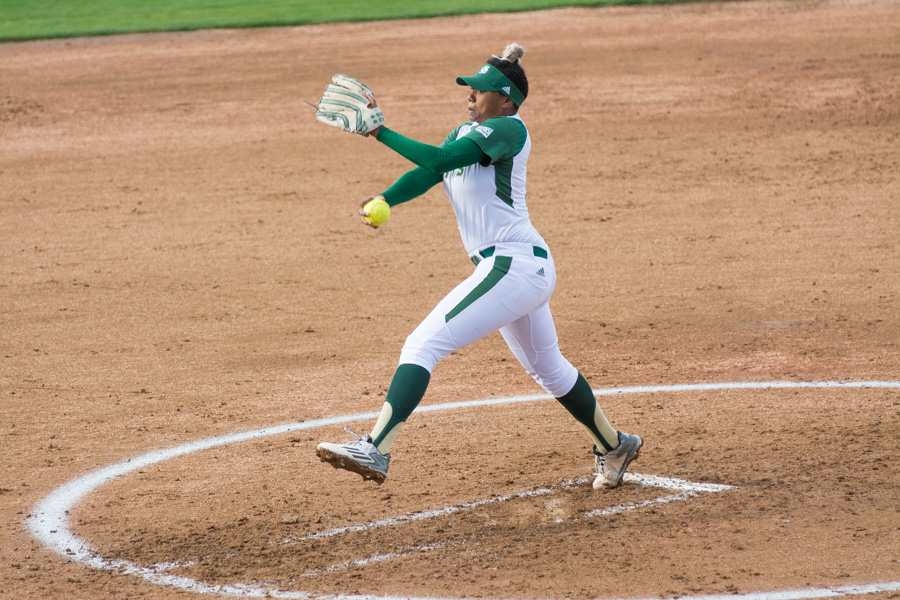 Sophomore pitcher Sara Cadona relieved Kibby in the bottom of the sixth inning and was able to close it out for the Aggies as she collected her second save on the season. Kibby advanced to 4-0 on the year and Matthias fell to 1-2.
Weather played a factor for both teams, as the tarp was rolled out to cover the infield from the steady rainfall 20 minutes before game time. The game started 30 minutes behind schedule after the rain stopped, but during the middle innings, more rainfall postponed the action.
"It affected us a little because we had to rush and unroll and roll the tarp up," Rasmussen said. "We were already warm for the game and then we had to re-warm up."
Sac State falls to 2-3 on the season and heads to Stockton this weekend to play Seattle University, Cal State Northridge and University of the Pacific in the Libby Matson Tourney. The next home game for the Hornets will not be until March 8, when Sac State hosts Nevada for a doubleheader at Shea Stadium.
"We have been in every ball game that we've played," Perez said. "It's just a matter of taking care of the little things and coming through with some offensive punch."