'I feel American': undocumented student lodges silent protest against Trump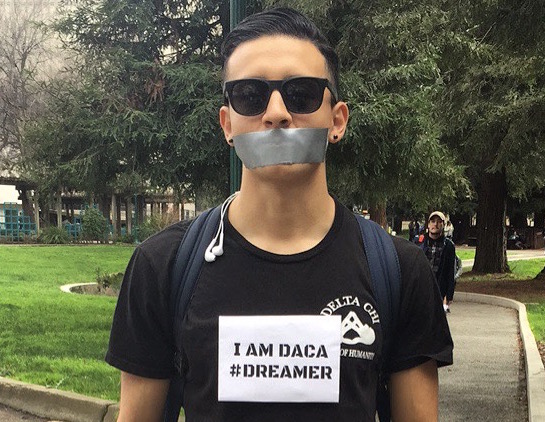 Everardo Chavez wanted to participate in A Day without Immigrants on Feb. 16, but felt that skipping class wasn't the most effective way to show what things would be like if he, and undocumented immigrants like him, were to be deported.
"I decided I'd go to school but that I wouldn't speak to show my absence," said Chavez, who covered his mouth with gray masking tape.
Chavez, a sophomore majoring in civil engineering, wore two signs on his torso: 'I am DACA #Dreamer' and 'My name is Everardo Chavez Perez and I was deported today.'
"At first it was very difficult for me and people would look at me and say 'Oh my God, that's so sad' and ask what I was trying to accomplish," Chavez said. "I got a lot of hugs from people saying 'I'm really happy you're standing up for what you believe in.' "
Chavez, who participates in Deferred Action for Childhood Arrivals (DACA), said that he came to the United States when he was "6 or 7 years old" and was compelled to make a statement after hearing about the detention of a DACA participant in Washington on Tuesday.
"He's been here since he was 6 (years old), works, no criminal record," Chavez said. "The fact that he was detained made me think 'That's me. I've been here since I was 6 or 7 years old. That could have been me.' I broke down, started balling my eyes out."
Chavez said that he is fearful of deportation in the aftermath of the Immigration and Customs Enforcement (ICE) "enforcement surge" last week that led to hundreds of arrests nationwide.
"I've been living in fear of deportation since I've been here but I've never been as afraid of any administration as much as this one," Chavez said. "The immigration enforcement is getting closer and closer to home. I'm afraid for my family; I'm afraid for myself and the good things we're doing are not viewed."

While he is a participant in DACA — a 2012 executive order signed by former President Barack Obama that effectively shields some undocumented immigrants from deportation — Chavez is not optimistic that the program will continue much longer into President Donald Trump's administration.
"To me the fear of leaving everything behind because someone things we're bad scares me," he said. "I feel American. I feel very proud of being here."
Chavez said that he didn't receive negative reactions from students on campus.
"Two Arab girls approached me and said 'You're doing a great job; I hope that your goal and focus is heard,' " he said. "There were a lot of people who looked down when they saw me."
That goodwill didn't spill over into Twitter, though, where Chavez became the target of both ethnic slurs and comments such as "i'd rip that duck tape off your face so hard and laugh when you start crying."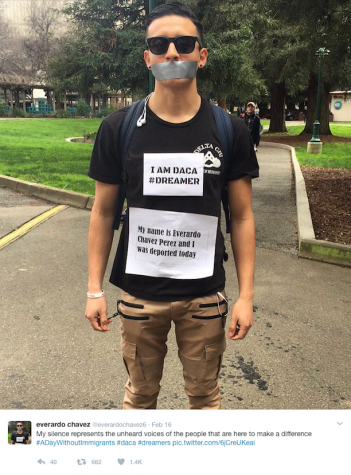 Chavez said that insults are not new to him — but that he's learned to turn them around because he knows that people's fears do not represent who he is.
"It built me up. I know I'm not all those things who they're saying, like a criminal," he said. "It made me proud of who I am even more. I turn them around and use them as a positive push.
Laura Ramirez, who is working on her teaching credential at Sacramento State, said that she saw Chavez in the library on Thursday and wanted to know what he was up too.
"I happened to see him leaving the library. It made me stop and see what his sign was. One of my friends went on Instagram, #DACA, and he came up," she said. "I was thankful. Being Mexican-American and coming from a family who are immigrants, I was thankful to see that people were doing something about it in a peaceful way — but a powerful way."
Ramirez said that she hopes Sac State President Robert Nelsen decides to designate the school a "sanctuary campus," an issue that has come up repeatedly since Trump's election victory last November.
"It's more than saying 'We welcome Latinos,' " Ramirez said. "It's hard for students to go to school if they don't feel safe."
President Nelsen sent out a SacSend message Thursday detailing the school's policy with regard to ICE. The University Policy Manual states that "the University will not enter into agreements with local law enforcement agencies, or any other federal agency for the enforcement of federal immigration law unless required by law."
Ramirez added that she and Chavez are meeting to discuss the possibility of a larger protest or statement.
Preston Nguyen, a sophomore pre-nursing student and Chavez's roommate, said that he has known Chavez or a long time and that seeing the silent protest "went down to my core."
"I felt like Evey humanized immigrants through what he did," Nguyen said. "Immigrants aren't bad people, and knowing Evey, he definitely proves that. He's a hard worker and such a kind and generous soul."
Trump himself, and campaign and administration officials, have made had conflicting statements about what the president plans to do with DACA, which he can overturn at any time because it is an executive order and not an act of Congress.

Most recently, during a press conference Thursday, Trump said "it's a very, very tough subject."