Black History Month provides a sense of pride for men's basketball players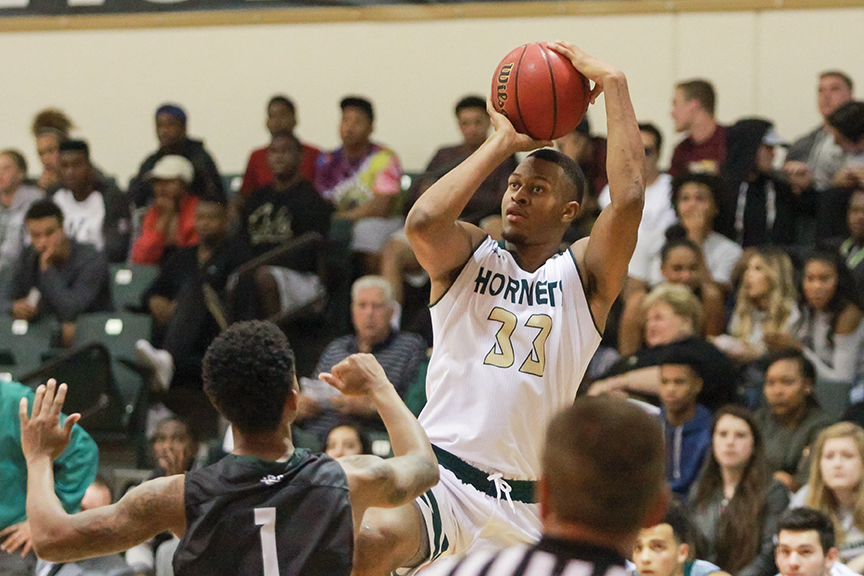 Black History Month has long been a chance for African-Americans in all fields not only to celebrate their heritage but to educate others who don't understand their background.
This includes athletes, and that fact has not been lost on members of the Sacramento State men's basketball team.
Junior forward Justin Strings spoke about how athletes such as Jackie Robinson (the first African-American to play in the MLB in the 20th century) and Chuck Cooper (one of the first black players in the NBA) paved the way for him to be where he is today.
"There's a lot of people in our past who have influenced people in the black community," Strings said. "And there's a lot of people who have pioneered the way for people like me to have the opportunity to play basketball or go to school and things like that. So I believe it's definitely a sense of pride and celebration for sure."
Another player who spoke up was senior guard Trevis Jackson, who is of mixed Filipino and black descent and spoke with conviction on how important this month is to him.
"Black History Month is a celebration of my heritage," Jackson said. "I take pride in being black. I've always known my family, from an early standpoint — they've always stressed to me that some things might be harder, and they can't protect me from it. I'm just going to have to take it head on, and I take pride in it."
Black athletes throughout history have focused on more than just their athletic talents. When given the opportunity, they have also taken time to speak up when it comes to social issues.
From Jesse Owens at the 1936 Berlin Olympics to Muhammad Ali during the 1960s Civil Rights Movement, and more recently with NBA and NFL players speaking about the Black Lives Matter movement, black athletes have used their platforms to bring light to the struggle of being equally accepted.
Senior forward and tri-captain Nick Hornsby believes that this form of protest is a great source of inspiration to him and other people of his heritage.
"I think it shows us how inspirational these people are, and also that being an athlete, you can stand up and talk and have a voice," Hornsby said. "People will actually listen to you, and just understand what you're saying, not because you're at a higher level, but because you have the ability to say what you want to say."
Strings discussed the issue in a more universal standpoint, and talked about how sports in general have a big influence on how the world views black athletes as a whole.
"Sports have a great ability to bring people together," Strings said. "When a great athlete or someone of that stature tries to stand up for a social issue, it can really help get things done and get people behind the movement."
For Jackson, it is a point of pride that black athletes have used their platforms to fight for racial equality and justice.
"That's big to me in general and that makes me a fan of them as a person, more so than just an athlete," Jackson said. "It inspires you. When I get older, I plan to give back to the community, especially communities that raised me because of the examples I've seen from the greats, and that's what I'm most proud of."