Spring addresses warn of changing frontier due to finances, politics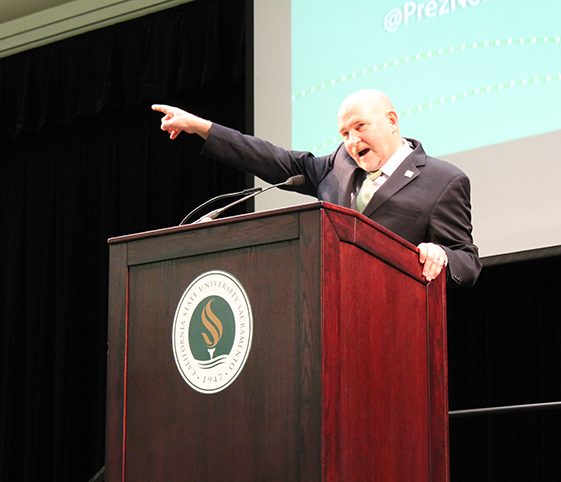 Sacramento State President Robert Nelsen and Associated Students, Inc. President Patrick Dorsey spoke about the current political climate, efforts to improve the university and the forthcoming battle against budget cuts during the annual Spring Address.
A packed University Union Ballroom listened as Dorsey, then Nelsen, spoke of the results of the 2016 U.S. presidential election without directly mentioning president-elect Donald Trump. They chose to do so, said Nelsen, because of both personal feelings about Trump and the overall negative campus reaction to his victory.
"Many of the students have talked to me about it," Nelsen said. "The forums that we had after the election, a lot of people expressed their concerns there."
Dorsey, who opened his speech talking about his background as a struggling community college transfer student who had trouble coming to grips with his identity as a gay man, said it's a main focus of his and ASI to improve and sustain inclusivity on campus, no matter who is U.S. president.
"I think it was the right thing to do," Dorsey said. "I think we need to reaffirm what we stand for."
Said Nelsen, "I want everyone to feel that they are safe here and this is a great university and a great place to be."
Both presidents admitted in their speech, however, that a more urgent problem faces the university and the CSU system, as Nelsen referenced an estimated $7 million deficit if California legislature does not improve upon its expected payout to the CSU.
Nelsen somberly warned the audience that, if more money does not come from the state, the proposed tuition hike by CSU administrators will still not protect Sac State from budget cuts.
The current level of funding "would require every division to cut their budgets by 4.9 percent. With these cuts, we'll have no money for new facilities, for infrastructure repair, no money to extend the graduation initiative, and no money for enrollment growth," said Nelsen, who called the school's finances "my biggest worry."
Both Nelsen and Dorsey were present last December at a forum on the proposed tuition increase, where students voiced concerns about the rising cost of CSU educations. Both expressed optimism at the prospect of campaigning for more state financing, with Dorsey saying that ASI will work on "making our voices heard in the capitol."
Nelsen also updated the audience on the ongoing process to increase timely graduation rates. He announced that 65 percent of this year's freshman class took 15 or more units in their first semester, the highest percentage since Sac State began keeping track of that statistic, and staggeringly high compared to the 11 percent that Nelsen cited from 2007.
More progress is being made to adding courses and faculty for the students. Nelsen said that the new faculty members will show an "increase in number of people of color who have been hired — and the number of women."