Tuition hike discussed at open forum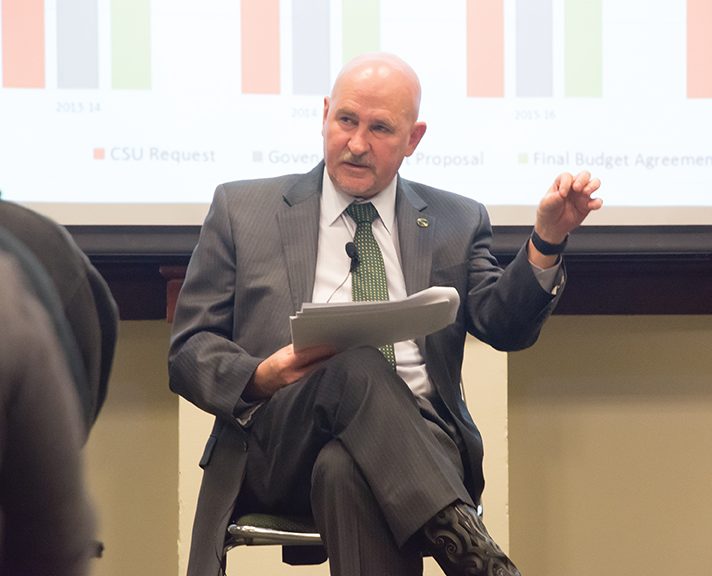 Approximately 50 students came to an open forum on Monday afternoon hosted by Associated Students, Inc. and centered around the topic of a potential tuition increase across the entire California State University system.
ASI President Patrick Dorsey and Director of Business Mia Kagianas were joined by Sacramento State President Robert Nelsen; the three gave an overview of the proposed tuition increase, the reasons for it, and responded to questions and comments from the audience.
As explained by Nelsen, the CSU Board of Trustees is positioning itself to increase tuition because there is a widening canyon between the state funding of CSUs and the budget required to run all 23 university campuses next academic year.
To fill the gap, the trustees have proposed a permanent increase in tuition: $270 per year for undergraduate students, $312 per year for credential students, $48 per year for non-residents, $438 for graduate and $1,048 per year for doctor of education, doctor of nursing practice and doctor of physical therapy students.
If the trustees decide to adopt the proposal, it would bring an end to the five-year tuition freeze that has been in place since 2011. However, since 2006, tuition at CSUs has doubled, as state funding has fallen precipitously.
ASI drafted and passed a resolution opposing the proposal; Dorsey wrote an open letter as ASI president detailing why he is against any increase, and plans to speak on behalf of ASI at a trustee meeting in January in Long Beach.
"My fellow ASI directors and I share the belief that even modest increases in tuition can further contribute to the financial burden of students and limit access to higher education, especially for many first-generation students," Dorsey wrote.
Nelsen, who was scheduled to fly to Long Beach for a monthly trustee meeting later that day, said after the forum that California has continued to "divest" itself from education, merging with a national trend. The CSU system was funded 53 percent by student tuition this year, and 47 percent by the state.
"I think we're really blessed in California to be receiving as much as we are from state funding. In Texas, I was receiving about 26 to 23 percent, but if you go to Louisiana or worse, Wisconsin, it's like 4 percent," Nelsen said. "Government has slowly been divesting from education and privatizing education in many ways, and putting it on the backs of students."
The three speakers took questions from the audience throughout. Some students asked for clarification on things, while others commented on the concerns they had about a potential increase.
An attendee of the forum, who wished to only be identified as Gavin, was highly critical of the proposed increase, and questioned the pay level and raises of CSU administrators, even in comparison to California Governor Jerry Brown.
"I just wanted to mention I think it's a little ridiculous that administrative staff makes far more than the governor. The governor makes $170,000 a year. You keep mentioning the governor's office, that's how much he makes," Gavin said.
"For one of us who is living basically student aid check to student aid check, incurring debt each year, it just seems that administrative staff that can't balance the budget shouldn't be receiving pay increases while we further go into debt."
Nelsen makes $303,850 a year, along with an annual $60,000 housing allowance and other benefits, and said during the forum that he received a two percent raise since then.
During Nelsen's hiring in 2015, the Committee on University and Faculty Personnel noted that Nelsen's salary was "46% below the average of comparative institutions."
Ashley Goins, a fashion merchandising senior who is graduating this semester, said during the forum that she is a child of two parents who went to college while they raised her, when college was more affordable.
Now, said Goins, students will be lucky to get through college in a timely manner without taking on heavy loan debt.
"I'm really concerned about the incoming students, and people who want to get master's degrees as well … We all wanna graduate on time, but what's going to stop us is those types of prices."