Sac State women's basketball team clings on to sting Northern Arizona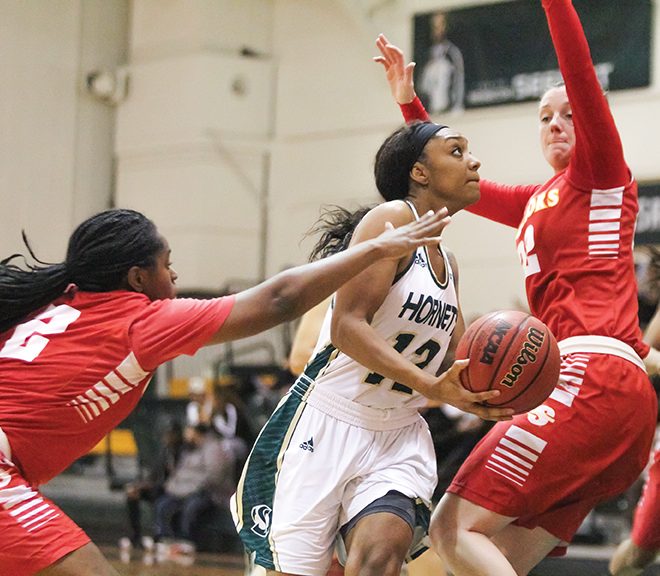 After starting Saturday's game against Northern Arizona with a 16-8 lead, the Sacramento State women's basketball team almost blew their chance at a second-straight win.
However, senior forward Margaret Huntington was not about to let that happen. With 0.7 seconds left in the game, Huntington made two clutch free throws to give the Hornets an 82-76 win over the Lumberjacks.
The key for Sac State (6-10, 2-3 Big Sky Conference) was not allowing Northern Arizona (5-10, 1-3 Big Sky) to have their way at the end. The Hornets kept Northern Arizona scoreless in the last 3:20 of the game, something that Sac State head coach Bunky Harkleroad said he was proud of.
"That was huge," Harkleroad said. "We're forcing more turnovers, getting a positive assist-turnover ratio, stealing the ball more. It's at least given us a shot to win basketball games."
Harkleroad did admit there were times during the second half that he did lose his cool.
"The second half was ridiculously frustrating at times, but with two and a half, three minutes left we took a deep breath, refocused and just played the next play," Harkleroad said. "I was really proud of our guys for doing that."
Going into Saturday's matchup, Sac State and Northern Arizona were the top two 3-point shooting teams in the Big Sky, averaging 11.7 and 8.3 respectively. So it was only fitting that the beginning of the game featured a lot of long range action.
The first quarter started off all Sac State, with the Hornets jumping to an early 7-2 lead in the first minute. Two early 3-pointers by junior Maranne Johnson (the current NCAA leader in 3-pointers made per game) put the team up 10-5, then senior guard Brianna Burgos made two quick threes to give the Hornets a cushy 16-8 lead with 7:10 in the quarter.
Northern Arizona, however, slowed down the game a bit and made Sac State play their game, drawing unnecessary fouls and playing inside often. With 1:42 left in the first, Olivia Lucero gave the Lumberjacks their first lead of the game with a floating jumper. Northern Arizona led 26-24 at the end of the first.
The second quarter swung back into the Hornets' favor. Senior guard Ashlyn Crenshaw got a quick layup to tie the game, then Burgos made her third 3-pointer of the game to give Sac State a 29-26 lead, a lead they would not lose the remainder of the game. While Northern Arizona didn't let the game slip away from them, they did allow 21 points to Sac State in the second quarter, trailing 45-38 going into halftime.
Sac State started off slow and sluggish in the third quarter, an issue that has been plaguing them all season. Northern Arizona used that to their advantage in the third, scoring 14 points in the paint. Sac State eventually heated up, with spirited play from the two smallest players on the team, Justyce Dawson and Tiara Scott. Their hustle and unselfish play led to 20 points for Sac State in the quarter, as they took a 65-54 lead into the final frame.
The fourth quarter was where the drama came in. Northern Arizona, led by Rene Coggins and Kaleigh Paplow, cut Sac State's lead from 13 at one point to just one basket between them. Coggins and Paplow combined for 16 points to bring Northern Arizona back within two, 74-72, with 3:20 left. However, the Sac State defense managed to hold on, and key free throws from Dawson and Huntington proved to be the difference maker in the end.
Huntington, who finished the game with 10 points and 14 rebounds (her seventh game this season with 10-plus rebounds), was glad to see the team get back to their normal style of play.
"When we started conference play, we were playing slow and not how we wanted to play, so now we're getting more shots, getting more rebounds, etc.," Huntington said. "It's good that we're building off our wins and starting to play more like us."
Burgos, who finished the game 4-of-6 from 3-point range (4-of-7 overall), was ecstatic about finding her shot again after a slow start coming back from an ACL injury that kept her out for nine months.
"It felt really good to see those shots go in," Burgos said. "I've been putting in a lot of extra work just shooting and trying to be mentally tough. After being out nine months, it hasn't been easy but it's good to start seeing results."
For Sac State, this is their second consecutive win after losing four in a row dating back to mid-December. The Hornets will have a few days off before heading out on a three-game road trip Thursday. The team's next home game won't be until Feb. 2, when they host Eastern Washington.