Expansions aim to entice more students to live on campus
Sacramento State has long been known as a commuter campus, but the university hopes to transform that culture over the next few years.
Construction is currently taking place in the University Union, with the dining commons renovation completed in October and new living spaces being built.
Samuel Jones, the director of campus housing, said that he hopes that the expansion will increase student activity on campus.
"Our goal is to get as many students on campus as possible, so when you're thinking about the basketball games or the football games, you see all the students going over there from the halls," Jones said.
The growing student population on campus is part of a larger movement that began over a decade ago.
In 2004, former Sac State President Alexander Gonzalez launched "Destination 2010" — an initiative aimed to create a more inclusive, welcoming campus. Developments included the construction of the Upper Eastside Lofts in 2007 and the WELL in 2010.
Following the execution of the initiative was the 20-year Master Plan — most recently revised and approved in 2015. The first developments to be implemented include the Union expansion, a new residence hall and a parking structure with over 1,700 spaces.
The new residential hall is located across from the American River Courtyard and will house about 416 underclassmen. The hall's completion date is set for May and will be open for the fall 2017 semester.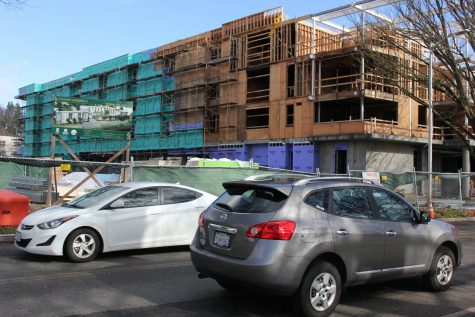 Despite the upcoming increase in housing size, many students still cannot afford the cost of living on campus.
Recent transfer student Patrick Seller-Downey, a business finance major, said that he chose Sac State because the campus is roughly a 40-minute drive from home.
"Since I do work in Rocklin and don't want to really move around jobs, I figured this would be the easier way to go for both school and work," Seller-Downey said.  
With the majority of the approximately 30,000 students commuting to campus, Sac State is making an effort to increase the number of out-of-state residents.
"Admissions and recruitment have been recruiting a lot of out-of-state students over the last couple of years so our population of students outside of the state of California has increased our on-campus population," Jones said.
One of those students was Jacob Burke from Elmwood, Wisconsin. Jacob came to Sacramento two years ago to pursue an education in music.
Having lived on and off campus, Jacob said he can see the difference in student involvement and the efforts the university makes to engage the campus community.
"It was definitely a lot easier to learn about things that are happening because everyone was talking about it, or just about everybody is talking about it," Burke said. "There (are) a lot of signs everywhere, and your RA is like, 'Hey, are you going to this?'"
The WELL Director Kate Smith said she has seen an increase in student demand to keep the gym open during Sundays and holidays, and attributes this to the influx of students living and hanging out on campus.
With students often competing for machines and locker rooms, the university has also planned to break ground on a WELL expansion project shortly after the first phase of the Union renovation.

As the campus undergoes renovations and improvements, Victor Takahashi, director of planning, design, and construction on campus, said that Sac State's isolated location may prevent it from ever fostering a close community similar to Chico State or UC Davis.
However, he also said that the new facilities coming to campus will help shift the school's culture to a more welcoming and engaging environment.
Still, the new J street parking structure proposed to open by winter 2018 indicates the university will continue to invest in its current student population, even if most of them live off campus.
This story was produced by the students of the State Hornet Digital Academy: Sami Soto, Will Moon, Itzel Gutierrez and Mariano Gomez.