Story continues below video
UPDATE: Nov. 9, 9:09 p.m.

Sacramento State President Robert Nelsen and Associated Students, Inc. President Patrick Dorsey have released statements regarding the election and subsequent campus protests. Click here to read both statements in full.
As college campuses erupted with protests nationwide following the election of Donald Trump as president of the United States, a large group of Sacramento State students took to the Library Quad to express their discontent on Wednesday, Nov. 9.
What began as a small gathering of students silently holding signs reading "not my president," evolved into a tense and emotionally charged dialogue between protesters and Trump supporters.
"(The protest) came about from the shock and despair that I felt last night and waking up this morning. It's not a nightmare we can wake up from. It's our reality," said Sac State student and protest organizer Simon Hyatt. "We wanted to come out here and make it heard that Sac State is not a fascist, white supremacist university. Sac State celebrates our diversity. We coexist as one community."
The previous night, Hyatt was on campus studying with friends at Round Table Pizza as election results came in.
"I was in absolute shock and terror as certain states began to fall and (Trump) went from having a 20 percent chance of winning to a 66 percent likelihood."
Hyatt said he felt as though his "brain (was) exploding."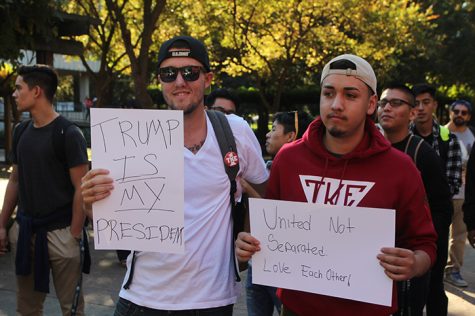 "Our generation is fucked. What is happening for the younger generation that has no voice?" Hyatt asked. "Our generation voted overwhelmingly in favor of Clinton. This is day one and there's going to be a political and social movement for the next four years."
Many bystanders, including Sac State student Carlos Flores, expressed similar shock and uncertainty.
"I can't believe that the nation is still racist," Flores said. "What happened to the rights we fought for in the 50s and 60s? Is that going away?"
For others, including Sac State student Jacob Vaughan, there was only one question remaining — what's next?
"What do we do now?" Vaughan asked. "I just don't know what (protesting) is going to do after today."
A jubilant Trump supporter who wished to remain nameless staged a small counter-protest, standing near protesters while holding a sign reading "Trump is my president." His presence sparked a brief but intense verbal confrontation.
Donning a black "Make America Great Again" hat, fellow Trump supporter Jared Paulin expressed disregard toward the protesters.
"It's their right to protest. I respect the First Amendment," Paulin said. "Everyone has their own opinion, but (Trump is) the next president."
Further protests were scheduled to take place at the State Capitol from 4 to 7 p.m.
The State Hornet will continue to update this story.