Lone defensive starting senior leads football team by example
Though his college football career ends in November, senior defensive back Nick Crouch plans to carry the lessons he has learned at Sacramento State to a new team: the U.S. Navy.
Crouch has played all four years since joining the Hornets in 2013, and is now fourth in total tackles (52) as the only senior starting on defense this season. A man of few words, Crouch leads his younger teammates by example with energized, physical play.
"He'll try to knock your teeth out," said Jody Sears, Sac State head coach. "He's one of (the) hardest working guys on our football team — going hard all the time to where sometimes you go, 'whoa, just slow down a little bit there so we can get the right fit and the right look.'"
After playing in all 12 games his freshman season in 2013 and starting every game in 2014, Crouch battled injuries throughout 2015 and missed three games. During his time off the field, Crouch opened up to his teammates for the first time.
"I knew I couldn't stay quiet and just stand on the sidelines, so I had to keep helping everybody (and) keep hyping everybody up before games," Crouch said.
The Hornets have had no shortage of frustration with a current 1-8 record following a 2-9 finish in 2015, but Crouch has remained supportive of the team's young defenders who hope to reverse the team's fortunes in 2017.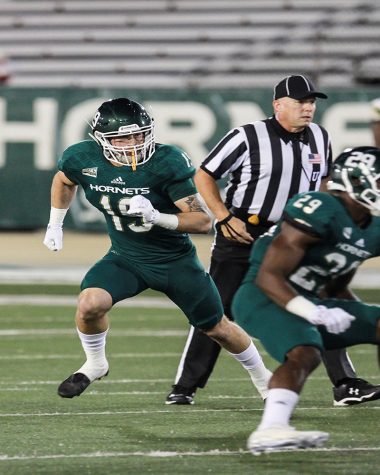 Two of Sac State's leading tacklers this season are defensive back Manny Scott-Anderson and linebacker Manoah Pearson, both sophomores.
"I'm just trying to talk to all the younger guys as much as I can," Crouch said. "Whenever I see them get frustrated after a play I'm just trying to talk to them, tell them to not get too down on (themselves) — try to help them fix it and just let them know they've got a lot of time left to play (and) to get a lot better."
Junior linebacker Tyler Meteer, also among the team's leading tacklers, says while the defense's chemistry has been strong this year, the team has struggled finding rhythm on the field.
"Sometimes what we've gotten in trouble with this season is a guy here or there not doing his job, and that's what's hurt us," Meteer said. "When we're all playing together with good teamwork and that good chemistry — that's when we're really successful."
Though graduating in May 2017 with a criminal justice degree, Crouch will continue a family legacy by joining the Navy, where he plans to become an officer and possibly go into flight school. Crouch's father, brother and grandparents have also served in the military.
In addition to his rigorous work ethic, Crouch says Sears and the rest of the Sac State coaching staff have instilled in him values of loyalty and selflessness that will follow him to the military and beyond.
"I've learned so much from (my coaches) and I really base what I want to be like as a person and as a father and even as an employee (on them)," Crouch said.
After falling 59-47 to Cal Poly on Oct. 29, Sac State has two more chances to add to its one victory thus far this season, with the final game against rival UC Davis at Aggie Stadium. The last time the Hornets visited Davis, Crouch had an interception and Sac State won the Causeway Classic — a feat he would love to replicate on Nov. 19.
"I know we've had our ups and downs this season, but to go out with a win (would) mean everything to me honestly," Crouch said.