'The Diviners' pulls on Sac State's heartstrings
A Great Depression tale surrounding two characters searching for water and faith will be showcased by the Department of Theatre and Dance in its first dramedy production of the semester.
The Diviners, written by Jim Leonard, Jr., is set in 1930s Zion, Indiana, with its focus on a sweet, mentally-challenged boy named Buddy Layman (portrayed by junior theater major Liam Worrell-Olson), who warms the hearts of everyone he meets.
At the age of four, Buddy and his mother were involved in a tragic accident where she drowned while Buddy survived. Because of this, Buddy gained the ability to sense when there will be rain and where there is water underground.
"I was extremely excited and happy to get this role," Worrell-Olson said. "It was hard in the beginning to connect with (Buddy) and then portraying him this way, just because he does think differently than others."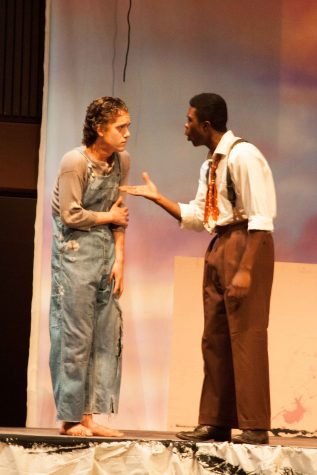 As the story progresses, Buddy begins to form a special friendship with a preacher named C.C. Showers (played by junior transfer student Roderick Hickman), who then becomes a life counsel and teacher to Buddy.
"This is my first semester here (at Sac State), so I am grateful and honored," Hickman said about being cast in the role of Showers. "My character is a wandering, runaway preacher looking for work and then he meets young Buddy, who changes his life."
Theater professor and director Michelle Felten said that the characterizations of both Buddy and C.C. Showers were quite complex to grasp when she was putting the show together.
"The very nature of (the play) is surprising," Felten said. "It was designed to be really simple. Our production is exactly what the playwright is asking for: no furniture and everything else is based on the imagination of the characters."
Felten said that showgoers should expect to experience a bit of a roller coaster ride as some scenes can go from dramatic, to comedic and back to the heart-wrenching theatrics in minutes.
According to Felten, the play and its characters have an apparent simplicity, while deeper down, there is that expected complexity. The show's costume designer Janis Johnston said that even though the production has a simplistic appearance, it actually took her quite a while to come up with the right designs.
"The clothes are very worn out and the women's clothes are a little cleaner," Johnson said of the show's 1930s-inspired looks. "We'd put pit stains and add stains. We even used cheese graters, sand papers and a cement maker."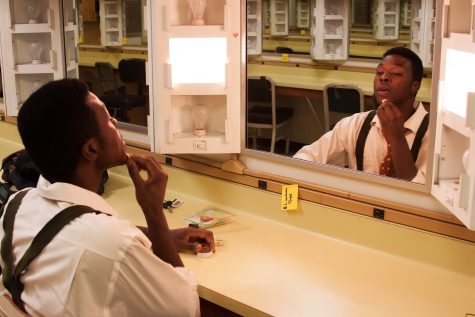 Along with the distressed clothing, makeup greatly adds to the effect, said makeup artist Elysa Quintella.
"To make it look like Buddy has ringworms, we used spirit gum," Quintella said. "It gives this texture a shiny appearance and makes the makeup stick on in a patchy way."
Felten said that every aspect of this production —from the lighting to costumes and makeup— is equally important, but The Diviners is most interesting because of the acting of Worrell-Olson and Hickman, as well as the storylines they portray.
"All of the characters have clear desires and needs," Felten said. "They all want something. They are on a search for water, but also on a search for peace of mind."
The Diviners will run from Oct. 19-30 at the Playwright's Theatre in Shasta Hall.