Hornet basketball player uses faith to rebound from struggles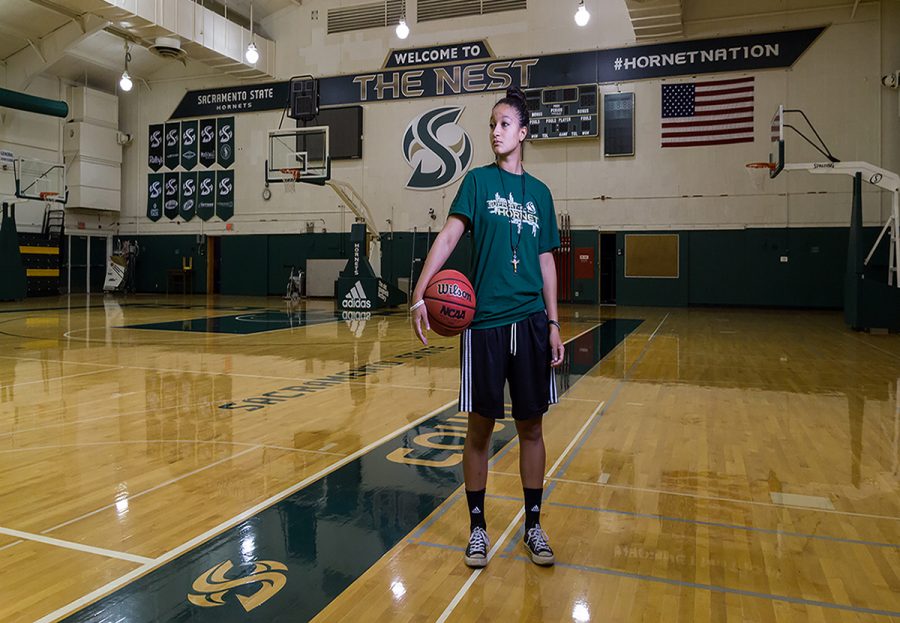 For a young child, it was a conversation with her grandmother that changed the course of her entire life.
"I was brought up in a Christian home, and I remember accepting Christ into my life at five," Sacramento State junior Taylor Brown said. "I was with my grandma, and we were talking about the eternal life he offered, and I said 'I want that.'"
Brown, a shooting guard on the women's basketball team, has spent most of her life on the basketball court. For Brown, however, basketball isn't the sole guiding force in her life.
"It's not basketball that keeps me going, it's Christ that keeps me going all the time," Brown said. "Because even on the court sometimes it gets hard, it's like 'why am I even doing this?' But then I cling back to Christ, back to my roots, and that's where I truly find completeness."
One of the times where Brown struggled with her faith was when she came to Sac State from Chino, California, trying to find her place on the team and being on her own for the first time.
"My freshman year was the hardest, being away from home, and doing things on my own, trying to bring it everyday to the court," Brown said. "Sometimes you feel overlooked, like people aren't seeing you. But then you realize this isn't about you, this is about serving others on the team -sometimes that means you have to step aside and serve others, and hope that they see Christ through that."
It's that particular outlook on life that has helped guide Brown not just on the court, but off of it as well. As an athlete, Brown understands the role she plays in showing others how Christ can make a positive impact.
"People look at us like 'cool, you're an athlete', and I think it's awesome that you can use that platform to share your Christian faith with others that normally you wouldn't have talked to before," Brown said.
Her genuine faith has not gone unnoticed by her teammates or coaches. Head coach Bunky Harkleroad, who has coached Brown since her arrival at Sac State, talked about how much of an influence she is to the team.
"She's a hard-nosed player, and usually has a smile on her face," Harkleroad said. "She's kinda taken a backseat to some players over the last couple of years, but now she has a chance to step up and shine."
Brianna Burgos, a redshirt senior guard, has been close friends with Brown since transferring from Sonoma State in 2014, and has learned a lot from her despite being the older of the two.
"(Brown is) extremely genuine and extremely real," Burgos said. "We really got close because she's helped me with my spirituality over the past couple of years. Even though she's a couple of years younger than me, she's been an inspiration for me in that aspect. We've gone to Bible studies together, we still do that type of stuff off the court."
What appeals to Burgos, however, is just how dedicated Brown is to her craft.
"She works hard and gives glory to God in everything she does, which is really special," Burgos said. "I feel that people forget that a lot of times, even myself. Before every game, I wear a necklace with the verse Philippians 4:13 to remind myself who I'm doing this for, and Taylor helped me get to that."
It's not just Burgos that has seen how keeping in touch with your spirituality helps, as Brown has seen it through the rest of her team as well.
"We pray before every game, and we have a Bible study before every home game, which is awesome," Brown said. "Other girls have even said when we get more into our spirituality, into God, things start working better on and off the court."
Through it all, Brown has seen her share of struggles and successes, but still has managed to keep a positive outlook.
"There have been times where I struggled and questioned things," Brown said. "But then I try to get into my word and ask God what it is you're trying to show me through this trial I'm going through. Once I get in that word, things just fall into perspective."
The struggle and realization is also something that Brown passes onto others, and shares that with anyone who comes to her.
"I would just share that times will get tough, but even through it, you need to continue to know that you're here for a reason," Brown said.
"The Lord shows you certain things through certain situations. You may not always understand it, but you have to have faith and keep trusting and keep motivating yourself."