Campus to unite for first Cultural Clubs Fair
Student Organizations and Leadership will host its first Cultural Clubs Fair in the Library Quad on Oct. 11 to showcase over 20 campus clubs and organizations and to introduce students to different cultures that Sacramento State represents.
A total of at least 25 tables and booths will line up along the Quad with representatives from each participating organization. At the fair, students will get a chance to engage with various clubs like the Cambodian Student Association, Black Student Union, Latino fraternity Gamma Zeta Alpha and the Multi-Cultural Center.
The Cambodian Student Association will perform the "madizone," a traditional line dance inspired by the '60s rock 'n' roll era of Cambodia, while a group of Filipino students from the Full Circle Project will introduce the campus to the "tinikling" — another traditional dance that involves two people stomping bamboo poles together while one or more dancers step and jump in-between.
Victoria Chom, a sophomore criminal justice major, said that Cambodian Student Association isn't just a place to meet new people but also an opportunity for her to reconnect with her roots. Chom joined CSA last year with a mission to explore more into her family's culture and, ultimately, learn how to properly speak "Khmer" — a native term for the Cambodian language.
"(My father) raised me to be 'American' so I had to learn English; (that's why) I don't know how to speak Khmer," Chom said. "That's the reason why I'm in the club, so I can learn more."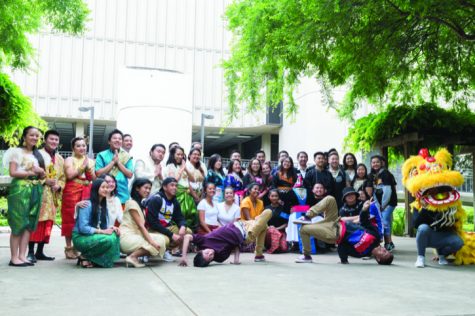 Rikka Venturanza, program advisor of SOAL, said that Sac State has hosted many cultural events in the past but none have been as inclusive as this one.
For her, cultural clubs play a large role in creating awareness and diversity at Sac State, and they also bring about a space for students to interact with those who they identify with culturally and sociologically.
"(Culture is) regional; it's a language; it's different variables that are not represented by someone's skin color or their country of origin," Venturanza said. "It's in context to their environment, where they live and who they interact with."
In addition to dances and other performances, participating clubs also want to discuss real and current issues facing their community, such as in the case of the Black Student Union, which is an active force on campus.
Janay Ezekwe, president of BSU and a senior biology major, said that the purpose of having Black Student Union's presence at the Cultural Clubs Fair is to bring awareness, unite and uplift every black student on and off-campus.
"When we embrace each other's cultures, we learn things and we can appreciate aspects of their culture that we might not have as part of our own," Ezekwe said. "That leads to an overall understanding of people from different walks of life. That's how you get to true peace. It's all through taking the time to understand each other."
Cultural Clubs Fair will take place from 11 a.m.-3 p.m. in the Library Quad.