Cornel West comes home to speak to an overcapacity crowd at Sac State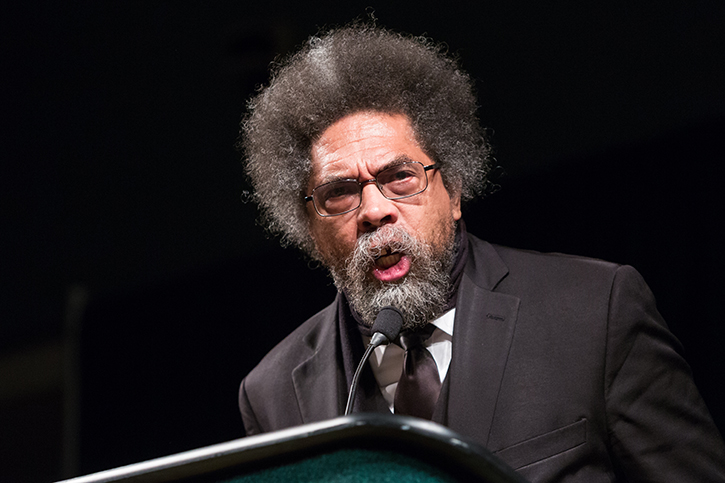 (Story below video)
Crowds were overwhelming Thursday night, as not even Sacramento State's biggest room on campus could contain the amount of people ready to hear Cornel West — philosopher, pastor, professor and protester — speak in his hometown.
West is arguably the premier academic celebrity in the nation today, amidst the racial strife taking place which is exemplified by the Black Lives Matter movement. He was a student and professor at both Harvard and Princeton, and is recognizable by name, appearance and reputation.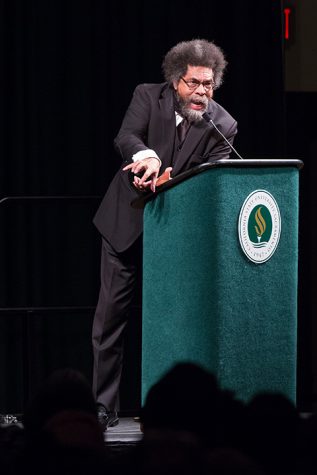 Accordingly, he drew a crowd of around 3,000 in total, only about 1,600 of which could fit into the University Union Ballroom. For the rest, live video was screened in the Hinde Auditorium and on the lawn outside in Serna Plaza.
West spoke for nearly an hour and a half Thursday night, seemingly all off the cuff and unrehearsed. But with his inherent knowledge and charisma, he kept the audience engaged and responsive for the entirety of his time on the stage.
For those listening, the night was an education on race, religion, ethics and morality in the United States today. West spoke about unity, about freedom from fear in expression, and about accountability.
He said during the press conference preceding his speech that a lack of accountability was at fault in President Barack Obama's two terms in the White House, and attacked Obama for being a "neoliberal." And when asked about the symbolic connection between Martin Luther King Jr. and Obama, West had harsh words to differentiate the two.
"Don't mention (King's) name if you're not gonna talk seriously about fighting poverty, militarism, materialism, racism, xenophobia," West said. When he reiterated much of the same opinion to the audience during his speech, the room loudly applauded.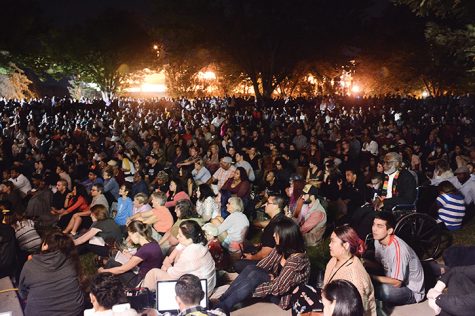 West also spoke about the current election, and said during the press conference that voters, especially college students, have every right to feel disillusioned with the two main candidates.
"Nothing wrong with disillusion when you have such truncated, narrow, mediocre choices. But you don't allow your disillusion to lead to you being debilitated," West said. "Young folk ought to remain active politically, intellectually, morally, spiritually, before the election, during the election, after the elections, next year, five years, ten years down the road."
West did say that though he is impressed with neither Donald Trump (a "neo-fascist catastrophe") or Hillary Clinton (a "neo-liberal disaster") as candidates, it's clear in his mind that Trump would be worse than Clinton.
"It's devastating for poor people, it's devastating for brothers and sisters in Honduras, devastating for the Middle East, devastating for Palestinians, devastating for a lot of people around the world, that neoliberal disaster being trotted out as the only alternative," West said during the press conference. "But it is better, there's no doubting that. Better than Donald Trump."
After his speech, West took questions from the audience, and hugged and talked to as many people as the time allowed. People who had met him on previous trips of his to Sacramento spoke about the last time they had met; most of the time, he remembered seeing them too.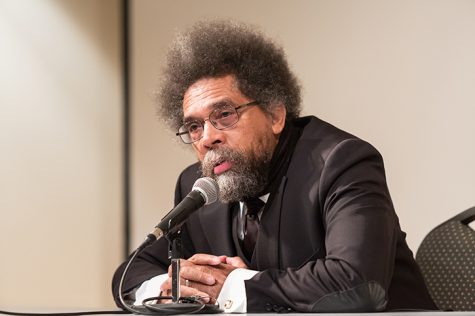 The demographics of the event were mixed; most were students, but as the event was free for anyone, there were a lot of non-students too. One man drove all the way from Oregon, and asked West when marijuana would be legalized.
West cracked a joke about Snoop Dogg, said decriminalization was something that needed to happen, and then made sure to clarify that he had never used it. His mother was fifteen feet away, after all.
For West, this speech was another chance to come home in the midst of a long national speaking tour. He arrived late Wednesday night, spent time with his family and saw old friends throughout the day, and brought his mother, brother, and two of his grade school teachers to the speech.
For Antoine Johnson, a grad student studying history, the night was life-changing. Johnson described himself as gravitating toward black intellectualism ever since becoming a history major in 2012. When he found out West was coming, he "almost fainted."
"I told myself that I would get in there, I'd be the first in line, to make sure I'd get a seat, because I wouldn't miss it for the world," Johnson said.
Johnson, with the help of a friend, got into the press conference room too. He talked to West, got his books by West signed, and got a hug from him too.
"It shook my world. It was earth-shattering," Johnson said. "He's one of the remaining writers that I look up to."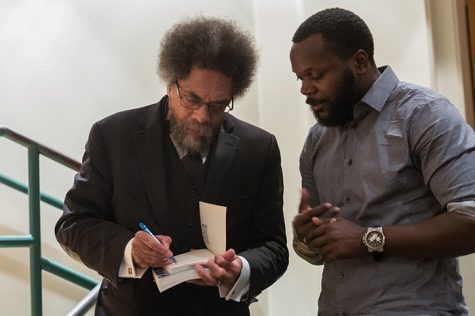 For Anthony Sadler, Sac State student and one of three Americans who helped thwart a planned terrorist attack on a French train last year, West's speech was partly about remembering what young black men need to do in the face of adversity and institutional racism.
"I think his message of love is the way to heal a lot of the problems in the world right now," Sadler said. "Just to center your actions around love and let everything else fall into place."
Sadler also came to support West as a fellow member of the Shiloh Baptist Church. Sadler's father is a pastor at Shiloh, and Sadler was raised in that church, and attends weekly with West's mother and brother, much like West did in the 1960s.
For President Robert Nelsen, the turnout was a sign that a new events center would have been able to fit 3,000 people. It was also a reminder of what makes his job, overseeing the education of so many young minds, especially important.
"Our students care. They want to be involved," Nelsen said. "They care about the United States, they care about what's happening right now, and they want to make things better.
"The millennials are different from what we're used to in my generation. We were all about money, they're about making a difference. If you look at this crowd, you know they want to make a difference."