Softball finishes strong after tough start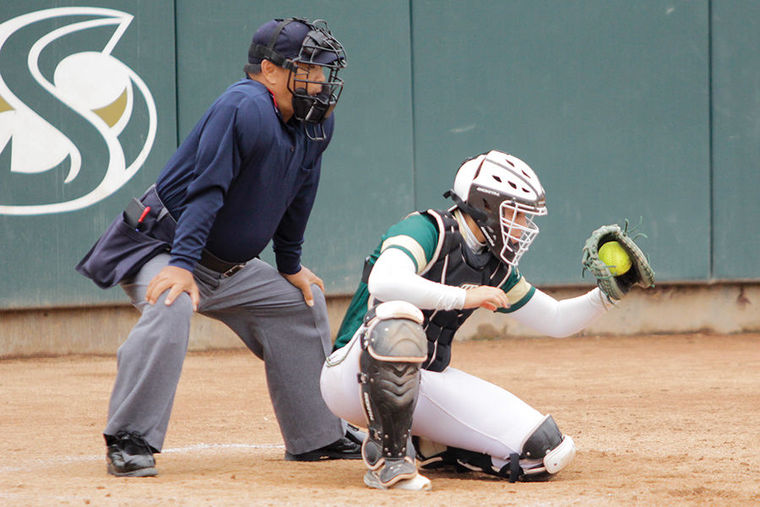 For a year that saw the team get off to a rocky start, the Sacramento State softball team came together to become one of the top teams heading into the Big Sky Conference Tournament next week.
The Hornets wrapped up their regular season with a home sweep of Portland State, to give them a 15-6 conference record and clinch the No. 2 playoff seed.
After a semester of getting to know each other, the players and coaches set out on their season together. Even with the extra time, the youth and inexperience of the team was evident early on, said outfielder Shelby Johnston.
"It started off a little rocky, but that's only because we're such a young team. On the field there were only five returners, so it was a very new team," Johnston said.
The team faced early growing pains early on, struggling on both sides of the ball. A lot of it can be attributed to the players never playing with one another and not yet knowing their teammates' playing styles and personalities. It didn't take long, though, for the team to kick it into gear, according to catcher Nikki Gialketsis.
"It's a learning process. When we went to Fresno [Feb. 20-21], that was probably our rock bottom, and after that, we started to climb and accelerate as a team instead of stay in that role," Gialketsis said.
That contagious feeling of winning spread fast, as the squad would come right back from after that game to sweep their games in the Saint Mary's Tournament on Feb. 27-28. That series marked the point the team realized how good they really were, says coach Lori Perez.
"When I think about the weekend we went to Saint Mary's, when we took care of business and won all four there, the girls really went, 'Yeah, we're good, we just need to show up and play.'" Perez said. "So if there's a defining moment, it would be that weekend, because that really was our breakout."
And just like their early season struggles can be attributed to not knowing each other, the success they have had since is a product of what the team has going on inside the clubhouse just as much as the actual talent on the field.
"I didn't think that we were going to gel as much as we did, because we have so many newcomers, and we really have," Johnston said.
The squad went into the conference part of the schedule with a bit of experience playing with one another and clicking on all cylinders. That was especially evident when they opened up conference play with a sweep of North Dakota on March 25-26. The offense thrived when everyone was working together, and for that matter, the entire team pushed one another because they were all pushing towards the same goal.
"Once one gets going, the whole firestorm starts," Perez said. "They definitely feed off each other, and one of our themes has been to keep it lit and keep that excitement, keep things competitive, and so I think they've held to the expectations that they've set for themselves."
For Perez, who's in her third season running the program, this team has done a better job than other years at taking the season one game and one pitch at a time.
"We had so many sweeps of teams that last year and the year before, we let our focus drop, and we would lose that one game to a team we should sweep, drop a random game here or there that we shouldn't have," Perez said. "I've been so proud of them, that they win the games you should win."
Those wins are what separates the top teams from the middle-of-the-pack squads. This team has come a long way mentally since the start of the season. From overcoming communication issues on defense to bats falling silent, this team has been more resilient than a young team like this should.
"When they've failed, they have come back the next day stronger and have fought. That has been exciting to watch. I'm extremely proud of how they've been able to handle the failure and rebound the next day," Perez said.
Even though the team has made appearances in the championship game, they've always come from the loser's bracket to force their way in. This year, though, as one of the top seeds and with a first round bye, the team has all the confidence in themselves and is already focusing in on their first game.
The Hornets have finished the marathon of the regular season. Now they shift their eyes toward the prize: the Big Sky Championship title.