Men's tennis has a youthful soul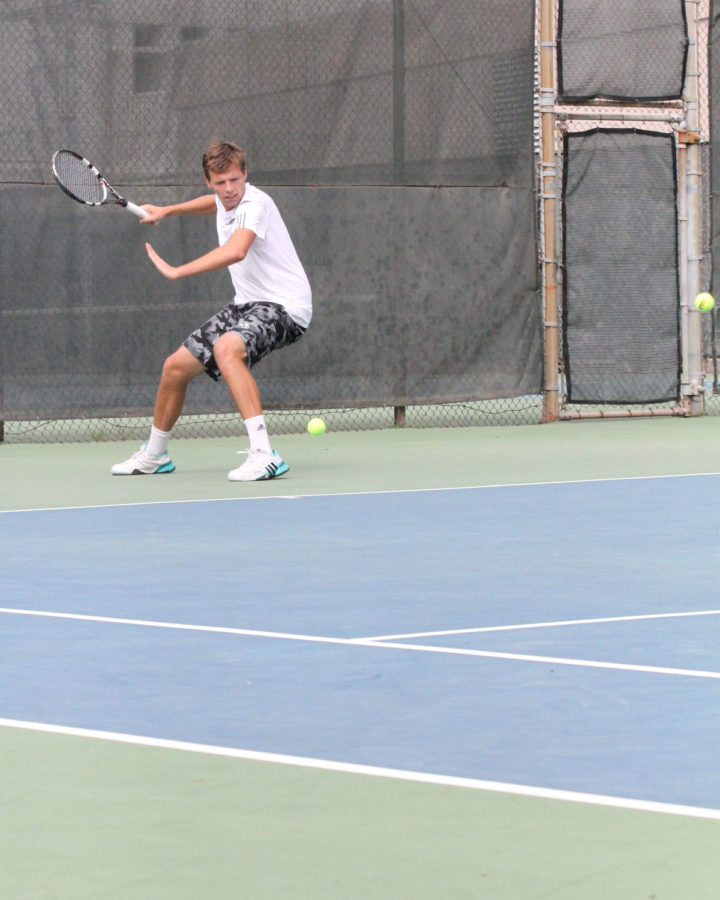 The youth movement at Sacramento State has been one of highs and lows for the men's tennis program.
Sac State's (9-13, 7-2 Big Sky Conference) lineup consists of two seniors, two sophomores and seven freshmen – one of whom, Mikus Losbergs, is a No. 1 singles and doubles player.
"We go out there and play and do our best. It doesn't matter if you're a senior or freshman," Losbergs said. "You try your best to win every match, every point, and as a team we are trying to win every match, but unfortunately our record so far is not so good, but in conference we are doing fine."
The Hornets at one point were undefeated in the Big Sky. Sophomore Christopher Clayton, who has an 8-1 career conference record, attributes this Big Sky success to the struggles that plagued the team earlier in the year.
"At the start of the season, we had a lot of tough opponents. We played a lot of ranked teams and … we went 0-7 at the start of the season, but we had quite a few chances in some of the matches to win," Clayton said. "I think playing at this level and a higher standard than normal conference teams did help us because we were used to the hard balls, the longer rallies. As soon as we started getting a couple victories under the belt you could see the guys' spirits rise and the confidence again."
One such player who has experienced a surge of confidence of late is freshman Dom Miller, who began his season 0-2, but has since maintained a positive 8-4 record in singles play. Miller, a New Zealand native, credits preparation as an important factor of the teams' success, brought on by a tough schedule and team leadership.
"The seniors and coaches have given us an idea of what college tennis is like. They've been pretty hard on us. When we've lost we've had to do miles for punishment, but … if there's no punishment, then the same mistakes end up happening over and over again," Miller said. "We learn from our mistakes, and they help us with that. As freshmen coming from another country, we don't know exactly how it works, so it's good to have someone to guide us."
In fact, five of the nine underclassmen are from foreign countries, such as sophomore Kasparas Zemaitelis of Lithuania, and freshmen Uli Vollath of Bavaria and Losbergs of Latvia. Despite the initial language barrier, Vollath and Losbergs achieved a 3.9 and 3.3 grade point average, respectively, in the fall semester.
"We try to help not only on the court with each other but also off the court, especially for me and Kasparas … our English is not our first language so guys like Donald [Hall] and Dom who have English as a first language, they help us. It's really important for us to do well in school," Losbergs said. "We also do a lot of things together. Sometimes on the weekend we go out and play basketball or football as a team, so it's really nice."
Things haven't all been fun and games for the Hornets, as Clayton and senior Joaquin Marquez have stressed the importance of hard work and keeping the body in shape with the Big Sky tournament a little over a month away.
"We have to tell them it's a lot of matches in the season and they're probably not used to it," Clayton said. "Before I came, I wasn't used to the frequency of tennis and what it does to the body. Emphasize the recovery side of things because we have to keep our body in shape. If one of you is injured, it affects the whole team, not just you. Tennis is such an individual sport, so it's a bit of a transition to the team … but I really like the unity of the team this year, and everyone is really close."
Sac State will rely on this togetherness to make a run at its first Big Sky championship and NCAA tournament appearance since 2013.
"I'm really happy with how each of the freshmen have adapted to coming here, and if they keep working hard every day then we'll be a better team and improve every week," Clayton said. "In the back of my mind I'm thinking about the future, but right now our goal is to win the conference. I think there's great potential. Right now the team is solid, and I think the potential to be a great team is there too."