Epsilona loves being one of a kind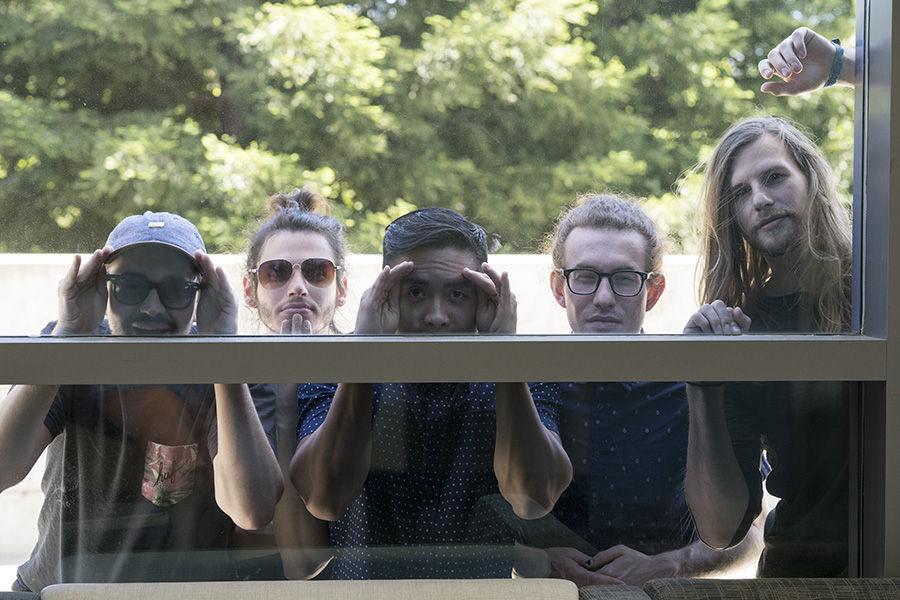 When in search of an apartment to rent on Craigslist in 2015, Nick Bretz stumbled upon a listing from Minh Le and Chandler Hale. After moving in, the three realized that there was one bigger connection than the apartment they share together: music.
At that time, Le and Hale had already been in a four-piece band with Carlos Gutierrez and Cory Phillips since 2013. When Bretz was invited to join, the band became the five-piece Epsilona that it is today.
On Wednesday, April 27, Epsilona will jam it out on the Sacramento State stage at the University Union Serna Plaza as UNIQUE Programs' second-to-last Nooner concert of the spring semester.
The Sacramento-based indie-alternative, psychedelic rock group consists of Le as vocalist, Hale as guitarist, Gutierrez as drummer, Phillips as bassist and Bretz as keyboardist.
Epsilona got its name from the intention of being different and one of a king – especially when someone does a Google search of it.
"We wanted to come up with a name that's like a word that doesn't exist," Le said. "So when you Google us, it'll just be us. And it has been working out pretty well so far. That's the benefit of having such a memorable word."
Epsilona said the biggest influences of its music are Australian psychedelic rock band Tame Impala, Toro Y Moi, John Mayer and each member's personal musical preferences joined forces to give the band a more collective sound.
"We all like the same kind of music but, at the same time, different," Phillips said. "I like indie rock. Carlos [Gutierrez] is into metal and punk. Minh [Le] grew up with soul and R&B. So that kind of brings all of the different things to the table."
Bretz said he has seen a slight change in the band's sound since he joined it in late 2015. Several months ago, Epsilona's music, according to Bretz, was more "muddy, and everyone does what they want," yet it retained a polished focus.
This just shows that the members of Epsilona are not afraid to show off their unique personalities when it comes to music.
Le, a senior biological sciences major at Sac State and the one who has written most of Epsilona's songs, he said he now focuses more on stronger melody and more "listenable" and psychedelic tunes.
"Our music is good and catchy and easy to the ears," Le said. "Nothing complicated, because I think when things get too complicated, people who aren't music lovers would tend to over-stimulate."
Last November, Epsilona released a six-track EP, "Thinkers," that compiles the six songs the band believed were ready for the public to listen to. Phillips said that even though "Thinkers" was the band's first product together, it was not as cohesive as it could have been since it was formed based on each song's readiness, rather than a common theme that would tell the world who Epsilona truly is.
"You first release will always tend to be like a result of choosing songs you first wrote as a band," Le said. "So they're all really early stuff. But the advantage in that, as you start going on, is that you get a chance to really refine your sound. You're no longer picking those first songs you happened to write. Now, you get to really think about it.
"Thinkers" includes a prelude track that serves as an introduction to the band and its music by giving a live experience.
"We usually start our shows with the song of the prelude," Hale said. "The album actually starts with Minh [Le] plugging in his guitar, so it's relatively live-esque. [The EP] is pretty similar to what our shows would be."
In the meantime, Epsilona is working on new material to be released as singles throughout this year before a new album sets to come out late-2016 and early-2017. This June, the band will also headline a liquid light show at the second annual First Festival in Southside Park of Downtown Sacramento.
"We're in the right place at the right time," Phillips said of his band's current local status. "Even though Sacramento does not have a big music scene, the city has been very receptive t our music, and we get a lot of support from people here."