Students receive aid in deciding major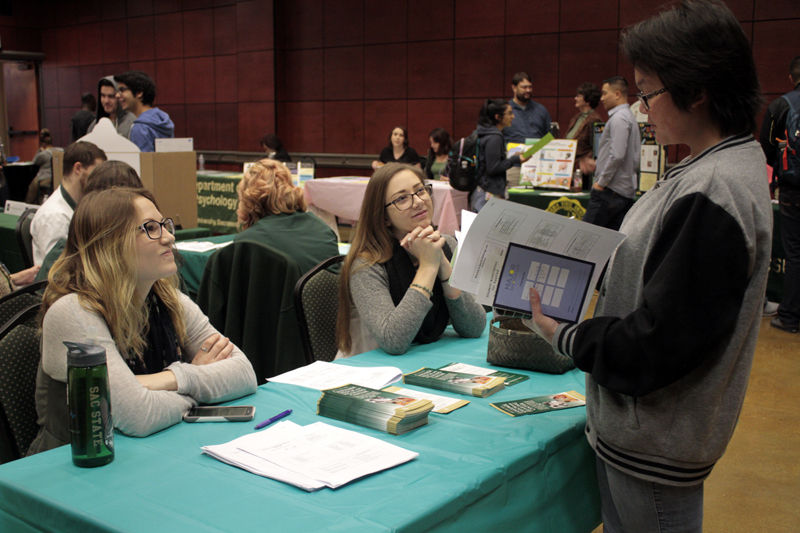 Associated Students, Inc. held the first Major Discovery Fair on Tuesday, March 8, where students were given the opportunity to examine the different majors available at Sacramento State.
Mia Kagianas, ASI director of undeclared students, began planning the Major Discovery Fair in the beginning of the fall 2015 semester with the intention of helping the Sacramento State student body select a perspective career concentration.
"This event gives students that instant feedback and valuable information when they are deciding upon a major," Kagianis said. "So overall, this event is not just for undeclared students, it's not just for expressed interest students, it's for all of Sac State to appreciate what we have here academically and our points of pride."
Kagianas said she was impressed with the turnout of the event and feels satisfied for bringing awareness to students who may be struggling to find the right major.
"When I ran for election last spring, I envisioned an event where students can see all that Sac State has to offer academically," Kagianas said, "where undeclared and pre-expressed interest students can ask questions, get information about Sacramento State and the amazing academics we have in our various colleges."
An Vo, external relations and communications coordinator for the College of Arts and Letters, said the Major Discovery Fair was a one-stop look at the different majors that Sac State has to offer its students.
"I think it gives them an avenue to see what options Sac State has," Vo said. "It gives them the opportunity to meet with different students and faculty members and ask questions that they may not necessarily find online."
Vo said it is important for students to have an open mind when searching for the major and not settle for what they think is the right choice.
"[Students] should explore the different classes that are available and not to just jump to the most obvious choice," Vo said, "and explore what they never would have considered and learn something different that may end up being the right path for them."
Shelbeer Kaur, a biology senior, said that while the Major Discovery Fair is a great resource for any student searching for a prospective major, she believes the best target audience are those students who are starting their college career.
"This event is beneficial to younger students," Kaur said. "It gives them a sense of what is out there and they are able to perceive the different options that you have."
Kagianas said this event will most likely be passed on to the next director of undeclared students to serve the same purpose of helping the Sac State student body to progress and achieve career goals and academic success.