Students open up with filmmaker and one of The New Jersey 4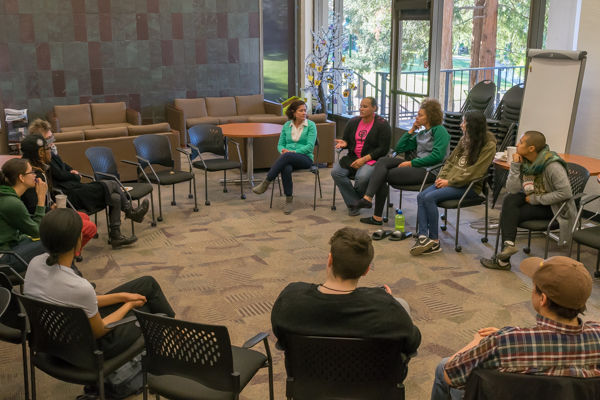 The Women's Studies Department along with the PRIDE Center and many other departments hosted the screening of the documentary "Out In The Night" on Tuesday.
The documentary explains in-depth the injustice suffered by a group of African-American lesbian women who were sexually harassed and assaulted in public, which led to their imprisonment for fighting back and defending themselves in New York City in 2006.
This became an issue of racism, sexism and sexual prejudice in the justice system and in the media.
Students were able to sit down and talk with the filmmaker Blair Dorosh-Walther and one of The New Jersey 4, Renata Hill.
"It opened my eyes," said Sarah Butcher, a junior sociology major. "[It made me] rethink the whole criminal system and how people are treated especially, African-Americans."
Graduate Program Coordinator of the Women's Resource Center Aisha Engle said it was an amazing experience for her and it showed how people survive and recover from injustices.
"Some people might see this kind of thing [mistreatment by the justice system] as avoidable," said Indiana Womack, a senior psychology major, "but even if you play by all the rules, … you are still vulnerable to mistreatment by people in power."
The discussion was open and free flowing, with students introducing themselves, asking questions, asking for advice, sharing their gratitude, and laughing with Hill and Dorosh-Walther.
"[It's] refreshing to meet someone so real," said Shavon Hyde, a junior women's studies major, in reference to meeting Hill.
The topics of discussion ranged from civil rights activism to personal subjects like family relations, personal coping mechanisms and perspectives and mentalities about life, education, and careers.
"[The group was] really engaged, and I appreciate the follow up questions," said Dorosh-Walther.