Sac State alumna "Butterscotch" performs on campus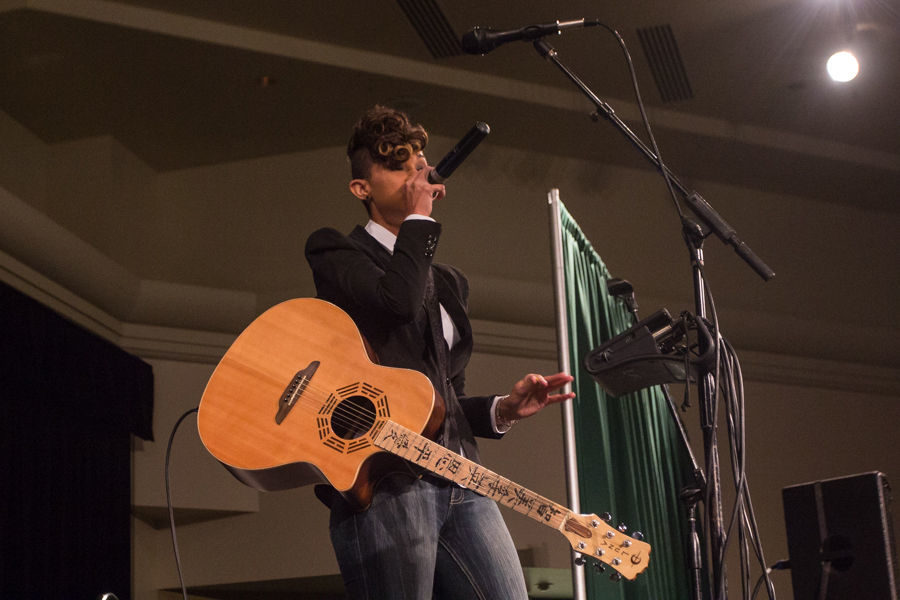 The soulful and humble Antoinette "Butterscotch" Clinton, a multi-talented beatboxer and Sacramento State alumna, performed for an intimate crowd on campus March 3.
In 2007, Butterscotch was a finalist on America's Got Talent after becoming the World Hip-Hop Beatbox Women's Champion in 2005.
Mary Lucido, a freshman communication studies major, saw Butterscotch for the first time Saturday.
"I came because I saw the Vagina Monologues and was so impressed I wanted to see more," Lucido said.
Butterscotch's performance and the Monologues are part of UNIQUE Program's Women's "Herstory" Month in March.
DJ Caz, Michael Ray and emcee Century Got Bars opened the show. Bars' website refers to her as a "soulful, classic" storyteller. Bars rapped and sang about the LGBT community and covered a version of "Ain't No Mountain High Enough."
As Butterscotch finished her first song, she invited the guests to move closer to the stage. It was an intimate setting that accentuated Butterscotch's honesty on stage.
Butterscotch told the audience she has battled depression in the past.
"That used to keep me down a lot. Now I have gotten older and wise, I'd like to think, and I'm more relaxed," Butterscotch said.
Butterscotch said she refers to her success as a product of "letting go."
"I was blown away by her performance," Lucido said. "It was inspiring."
Rebecka Smith, a freshman history and international relations major, enjoyed her first time seeing Butterscotch as well and said she was speechless.
Nefertiti Khemet, a second-year graduate social work student, was invited to hop on stage and dance as Butterscotch sang, rapped and played the guitar.
"It's an honor to see her," Khemet said. "She's a one-woman band, you don't ever see that. It's just her up there."
Butterscotch played her guitar and created her own beats by beatboxing. Throughout the show she would record the noises and loop them back into the song.
Butterscotch took time to thank her friends and family on stage afterward.
"I am never taking for granted all the places I've been and all the people I meet," Butterscotch said.
Butterscotch said she plans to continue touring this year and will be releasing her "Scotch Tape" EPs as well as cover songs. For more information, visit www.butterscotchmusic.com.