Rowing brings home gold in season opener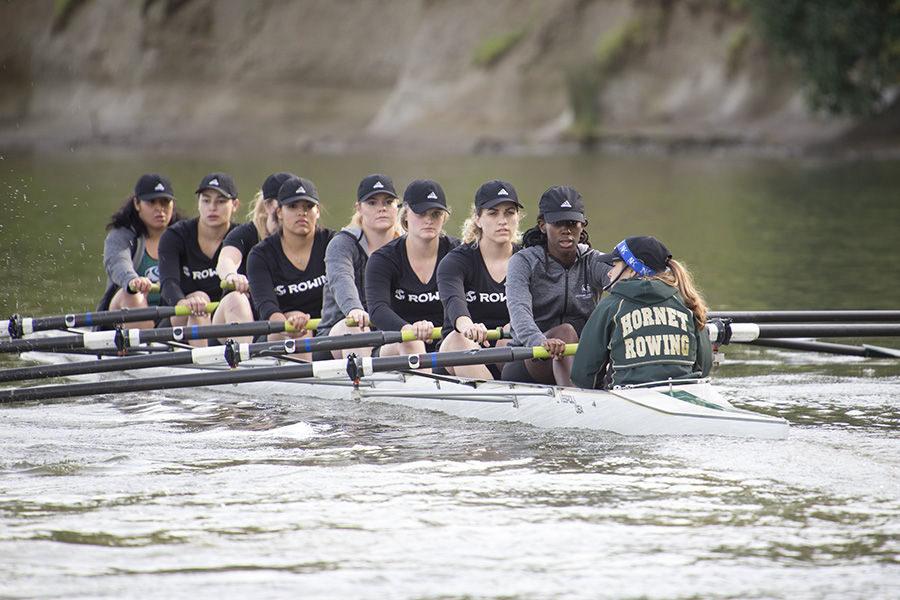 The Sacramento State rowing team wasted no time in its spring season opener, winning five gold medals in six races at the Sacramento State Rowing Invitational on Saturday morning at Lake Natoma.
Considering the conditions going into the event—crosswinds ranged from 5-10 mph and a high current—there were many fast times posted during the regatta from all six teams involved.
Sac State competed against Humboldt State, Mills College, Orange Coast College, Saint Mary's College and UC San Diego.
In the first race of the day, the Hornets' first varsity eight team posted the fastest time in school history, with a 2,000-meter winning time of 6:15.0. St. Mary's and Orange Coast rounded out the top three with times of 6:22.5 and 6:28.5, respectively.
Junior Carli Preston, a starboard for the varsity eight, said she was ecstatic about the team's big margin of victory.
"It was a lot of fun, and we had high expectations for our first race," Preston said. "Whenever you can get a win that far ahead, it's nice."
The second varsity eight team finished in first place with a time of 6:33.3, 11 seconds ahead of second-place St. Mary's (6:44.7). The other three gold medals for the Hornets came from the varsity four, second varsity four and novice four, each of them winning by over 20 seconds.f
Junior port Jill Modean was proud of the effort the rowing team put forth despite the conditions on the lake.
"It was a little windy, but at least it wasn't raining," Modean said. "The girls rowed really well in the wind today; we kept it controlled, nice and steady. That's the key to rowing in the wind, keep it calm and collected."
Results for the regatta are posted below. The Hornets will be back at Lake Natoma on March 19, hosting Alabama, St. Mary's and San Diego State.
VARSITY EIGHT
Sac State – 6:15.0
St. Mary's – 6:22.5
Orange Coast – 6:28.5
San Diego – 6:30.6
Humboldt State – 6:33.7
Mills – 7:04.5
SECOND VARSITY EIGHT
Sac State – 6:33.3
St. Mary's – 6:44.7
San Diego – 6:52.1
Humboldt State – 7:06.1
Mills – 8:06.9
VARSITY FOUR
Sac State – 7:11.1
San Diego – 7:31.3
St. Mary's – 7:41.4
Orange Coast – 7:42.7
Mills – 7:52.1
Humboldt State – 7:59.6
NOVICE EIGHT/THIRD VARSITY EIGHT
San Diego – 6:59.1
Sac State A – 7:02.2
Sac State B – 7:12.7
Orange Coast – 7:17.8
Humboldt State – 7:28.3
St. Mary's – 7:57.6
SECOND VARSITY FOUR
Sac State – 7:29.0
San Diego – 7:56.3
Humboldt State – 8:08.5
St. Mary's – 8:28.1
Mills – 9:03.7
NOVICE FOUR
Sac State – 8:04.1
San Diego – 8:30.0
Humboldt State – 8:52.1
Mills – 9:49.1