Live Manikins magnetizes audience with its unique hip-hop style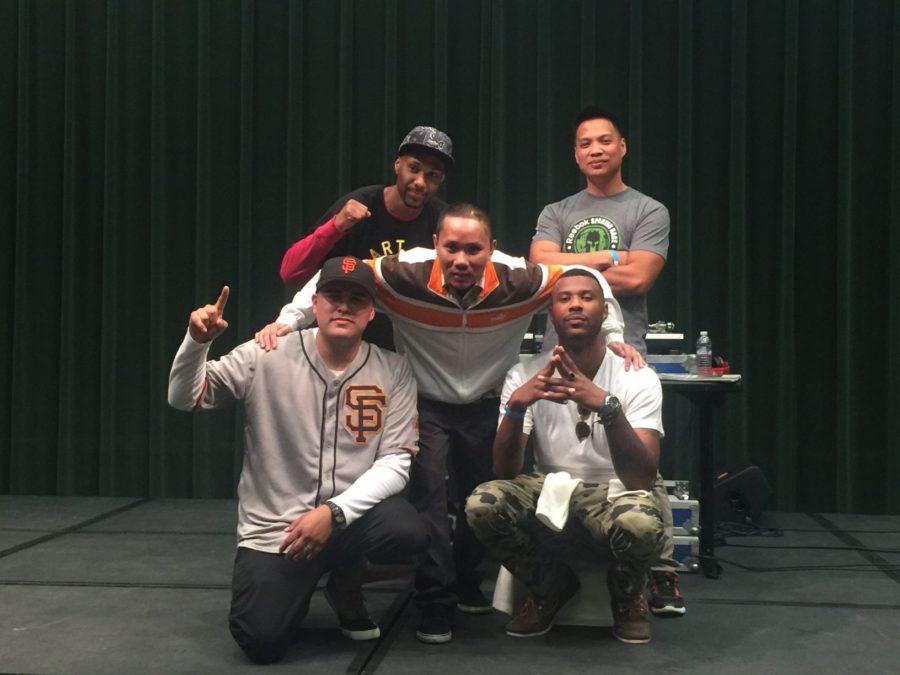 When this week's Nooner performers began their set today, the audience did not even fill half of the size of the University Union Redwood Room.
However, by the end of their first song, the crowd began to pour in as the band continued on with their rap performance.
That was the kind of magnetism Live Manikins brought to this week's Nooner concert.
Formed in 2004, Live Manikins is a Sacramento-based musical group that consists of emcees Justin "Self" Brown, Justin" Mr. Lingo" Rubio, Aaron "Flavius" Brown, DJ Ron "Rated R" Florente and producer Gabriel Pizarro.
"It's like five people from five different sides of Earth coming together," Self said of his group's diverse members.
At the concert, the band performed a number of songs from their 2007 album "Still Life" and 2011's "Full Canvas."
Live Manikins' emcees performing their first song #CSUSnooner pic.twitter.com/8JR2HJUQa7

— The State Hornet (@TheStateHornet) March 30, 2016
Live Manikins started the show with a high-energy song that made the audience move their heads along to the fast-paced rapping style by emcee Mr. Lingo.
For their third song, the band paid tribute to Phife Dawg, a member of the hip-hop group A Tribe Called Quest who just recently passed away.
Live Manikins performing a tribute to Phife Dawg-member of A Tribe Called Quest who recently passed away #CSUSnooner pic.twitter.com/mQqbBOALUf

— The State Hornet (@TheStateHornet) March 30, 2016
In between performances, members of Live Manikins showed off their decade-long chemistry by joking around with one another in front of the audience.
Midway through the show, the four emcees gave some solo time to DJ Rated R for his "turntabling" skill.
DJ Rated R of Live Manikins at #CSUSnooner pic.twitter.com/KSCEdbUx3i

— Vu Chau (@vchau2020) March 30, 2016
DJ Rated R is also a member of Sleeprockers, a local rock and hip-hop disc jockey group, who just recently performed at their own Nooner concert in February of this year.
With sounds inspired by the 90s' hip-hop scene and the strong sense of contemporary eclecticism of each member's personal life, Live Manikins gave Sacramento State's students a Nooner concert that only made them wanting more by the end of it.