Men's basketball continues conference woes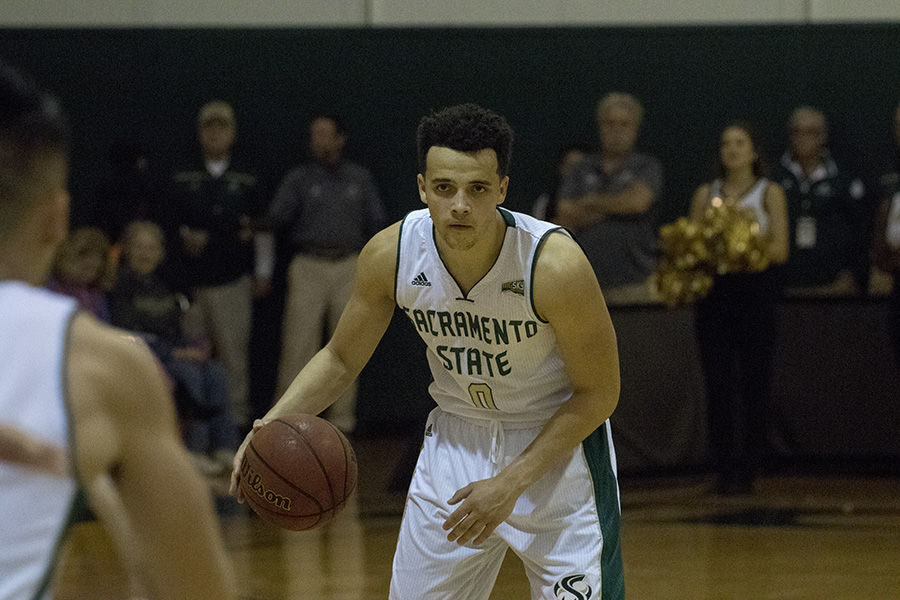 The Sacramento State men's basketball team (10-12, 3-8 in Big Sky Conference) continued their conference woes Thursday night, losing 63-50 to Weber State University (17-7, 9-2 Big Sky) at Dee Events Center in Ogden, Utah.
Weber State's Joel Bolomboy and poor shooting from Sac State's team were to blame for the blowout loss. The Hornets are now 3-8 in the Big Sky Conference, a year after finishing third overall with a 13-5 record.
The Hornets could not seem to find a rhythm all game on offense, posting a season low in field goal percentage (32 percent) and points (50).
Despite the return of senior guard and team captain Cody Demps, the Hornets could not find an answer on offense or on defense.
Weber State's Bolomboy finished with 22 points and 23 rebounds. He was playing in front of multiple NBA scouts, according to the Wildcats broadcast team.
Sac State head coach Brian Katz didn't think Bolomboy was the reason for the loss, though.
"I thought the difference in the game was we missed seven layups in the first half and our free throws," Katz said.
In addition to the poor field goal percentage, the Hornets finished 11-21 from the free throw line and finished the game with twelve missed layups.
Another factor going against Sac State was the poor play of junior center Eric Stuteville. Foul trouble early on in the game limited Stuteville's minutes and production. He finished with two points and one rebound. The Hornets' backup center, James Herrick, also battled foul trouble and did not score.
That lack of a big man allowed Bolomboy to run rampant on the glass on defense and get easy baskets down low on offense.
One positive that did come out of Thursday's game for the Hornets was the return of Cody Demps. Demps, an offensive and defensive leader, didn't play the entire game, but still filled the stat sheet.
"It's going to take a little while for him to get back into shape, but it was great," Katz said before discussing Demps' stats for Thursday. Demps finished with eight points, six rebounds, two assists, a block, and no turnovers. This was Demps' first game back in five weeks after sustaining a quad injury in December.
Katz said Demps will slowly get back to full minutes over the next couple of games. He had averaged 35 minutes a game before the injury took him out for the last nine games. He hadn't missed a game in his three years at Sacramento State until this season.
Justin Strings led all Hornets with 11 points and 14 rebounds. Marcus Graves also finished with 11 points for the Hornets. Kyndahl Hill added eight points and 11 rebounds and Jeremy Senglin added 17 points for the Wildcats.
Sac State will look to rebound and snap their two game losing streak at Holt Arena in Pocatello, Idaho against the Idaho State University Bengals (12-11, 7-4 Big Sky) on Saturday at 6:00 p.m. The Wildcats will welcome the Portland State University Vikings (8-14, 4-7 Big Sky) to the Dee Events Center on Saturday at 3:00 p.m. Both games will be available to stream free via bigskyconf.com.