Hornets suffer worst defeat since 2011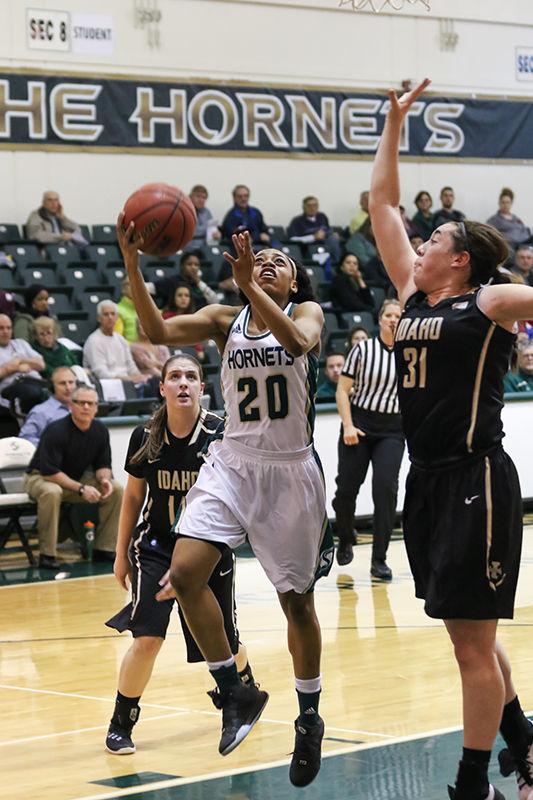 On a day where everything went right for the University of Idaho, everything went wrong for Sacramento State's women's basketball team.
Idaho made 12 of its first 13 shots to start the game and shot 7-of-9 from the three point line in the first quarter en route to a 107-60 win over Sac State on Saturday afternoon.
The loss, which was the first for Sac State in four games, was also the largest margin of defeat they have suffered since 2011 (a 117-55 loss to the University of Oklahoma on Nov.13, 2011).
Idaho set the tone of the game early on in the game, taking a 25-point lead in the first quarter. Sac State senior guard Ericka Magana scored the first points of the game on a quick layup, and that was the only time the Hornets led the entire game. Idaho went on an 11-0 run after the Magana layup, committing only two turnovers in the quarter which they would finish with a 38-13 lead.
The second quarter didn't fare much better for Sac State, as they only scored 16 points. They held Idaho to 21 points in the quarter, but the damage had already been done. Idaho went into halftime with a 59-29 lead, as they shot 21-of-33 from the field compared to Sac State's 12-of-50.
Idaho came back in the third quarter ready to put the game away, scoring 29 points and keeping Sac State off their game defensively. With an 88-46 lead going into the fourth and final quarter of the game, Idaho went on cruise control for the remainder of the game, only scoring 19 points in the final quarter.
Sac State's Adella Randle-El was the only Hornet to score in double figures, finishing the game with 14 points, six rebounds, four steals and two assists. Sophomore Maranne Johnson, who made the game-winning shot Thursday against Eastern Washington, only scored seven points. Idaho had five players score in double figures, led by senior Ali Forde, who finished the game with 23 points on 9-of-11 shooting,
Sac State comes home this week for their last homestand of the season. The first game of the homestand will see them facing off against Northern Colorado on Thursday, Feb. 25. The game starts at 7:05 p.m.