Hornets pull off upset in Louisiana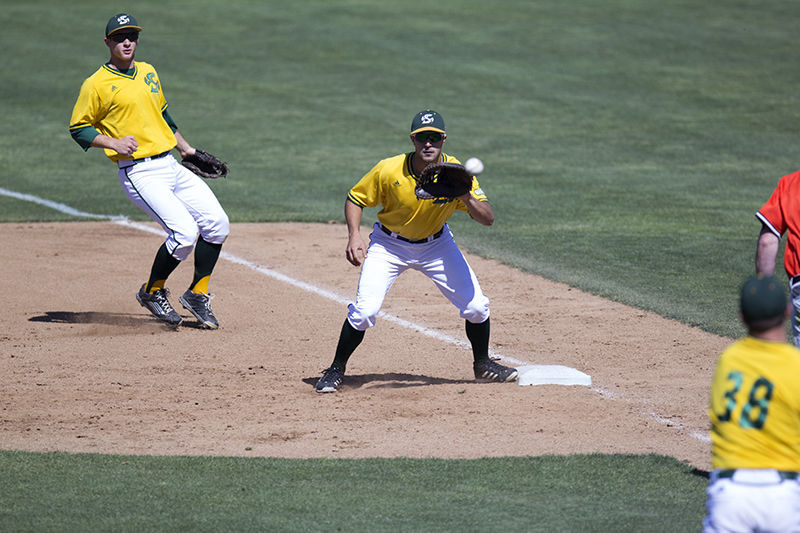 After an early 4-1 deficit, the Sacramento State baseball team kept on chipping away to take down the No. 5 nationally ranked LSU Tigers, 5-4.
The Sac State Hornet bullpen held LSU to no runs and four hits after starting pitcher Grant Kukuk gave up four earned runs on seven hits in the first three innings. Reliever Tyler Beardsley picked up the win while pitching the last two innings, giving up only one hit. Tanner Olson and Chad Perry also pitched two innings apiece, allowing no runs on a combined three hits.
The Hornets' offense prevailed, totaling 10 hits throughout the ball game. Junior third baseman Kody Reynolds led the team with three hits and a run scored. Sophomore first baseman Vinny Esposito came up clutch on two different occasions including a sacrifice fly for the go-ahead run. Esposito went 1 for 4 with a home run, two RBI and a run scored.
Senior right fielder Chris Lewis went 2 for 5 with a pair of singles and a run scored. Junior catcher Gunner Pollman went 1 for 3 with a double and two runs scored. Sophomore left fielder Andrew McWilliam, senior shortstop Trent Goodrich and freshman designated hitter Matt Smith each added a hit and an RBI of their own, with Smith continuing his hitting streak to six straight games.
Sac State (4-2) struck first by scoring in the top of the second off of a two-out walk to Pollman, followed by a full-count RBI double to left field by Goodrich.
LSU (4-2) came back in the bottom of the third inning and took a commanding lead with three extra base hits resulting in four runs. Kramer Robertson started off the rally with a one out triple, followed by a little miscommunication on the infield of the Hornets, leading to an RBI single by Antoine Duplantis.
Jake Fraley then hit an RBI double down the right field line past a diving Esposito. The very next batter, Brody Wofford, hit a two RBI triple down the left field line as McWilliam was unsuccessful on his diving attempt.
Sac State was able to answer back and make it a one-run game, 4-3, in the top of the fourth inning. Esposito launched a solo home run to left field on the very first pitch of the at-bat. Pollman followed with a double to left center field and would eventually score on an RBI single by McWilliam.
In the top of the eighth inning, Sac State threatened to tie the game up against LSU. After Pollman reached first base with no outs on an error by first baseman Greg Deichmann, he was then pinch ran by Blake Edmonson. Edmonson advanced to second base on a wild pitch and stole third cleanly. However, the Hornets were not able to capitalize with a runner on third base with no outs.
The Hornet squad came up huge in the top of the ninth inning. Lewis started it off by reaching first base on an error by LSU shortstop Cole Freeman. Back to back singles by Kody Reynolds and Matt Smith allowed Lewis to score the tying run and left Kody Reynolds on third with only one out. Esposito came up clutch yet again with an RBI sacrifice fly ball to center field, bringing across the go-ahead run.
This win for Sac State ties up the series against LSU at one win apiece. Game three will be underway Sunday, Feb. 28 at 11 a.m. PST in Baton Rouge, Louisiana.