Hornets look to put a sting to Eagles, Vandals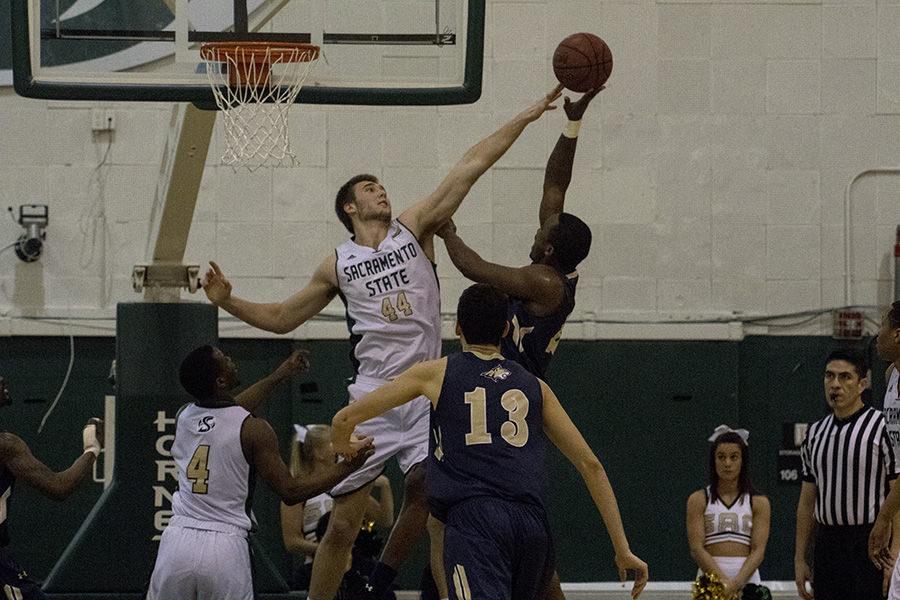 The Sacramento State's men's basketball team has a tough two-game homestand this upcoming weekend at The Nest as the regular season nears its end.
The first game will be the biggest challenge. A tough Eastern Washington University team (15-10, 9-4 in the Big Sky Conference) will be coming to town looking to finish a season sweep of Sac State (10-13, 3-9 Big Sky).
The Eastern Washington Eagles, currently third in the Big Sky, have alternated regular season wins with Sac State over the last two plus seasons home and away. While this bodes well for the Hornets, they have struggled of late.
Eastern Washington beat Sac State 74-67 at Reese Court in Cheney, Wash. on Jan. 30.
Sac State will have to have their defense clicking if they want to stand a chance against Eastern Washington. The Eagles have four players averaging double digit points per game: Austin McBroom (20.0 ppg), Venky Jois (16.5 ppg), Felix Von Hofe (13.5 ppg), and Bogdan Bliznyuk (12.5 ppg). For comparison, the Hornets only have three: Justin Strings (14.4 ppg), Marcus Graves (13.7 ppg), and Cody Demps (12.4 ppg), who recently returned from injury.
One factor that plays into Sac State's favor is that Eastern Washington generally plays a small lineup. This means they don't start anyone taller than 6 foot 8 inches. The Hornets have played a small lineup most of the season, only deploying 6 foot 11 inch center Eric Stuteville as a starter in a handful of games.
Sac State matches up well with Eastern Washington and if Stuteville can find his rhythm early on, he could come in off the bench and be a major force against a small Eagles group of forwards.
McBroom will be the x-factor for Eastern Washington. Sac State head coach Brian Katz will need to have the Hornets defense ready to go for a game that looks to be a shootout in the making.
The second game on the home stand is Saturday at 7:05 p.m. and will be against another tough opponent, the Idaho University Vandals, and possibly one Sac State will face in the Big Sky Tournament in Reno, Nev. in March.
Sac State beat Idaho 65-63 at the Cowan Spectrum in Moscow, Idaho on Jan. 28. It was the Hornets' first win there since 1972; however, the score does not tell the whole story, as the Vandals came back from 21 points down in the second half to make it a close game.
Idaho can take over down low with their post game, which will be a matchup problem if Stuteville gets in foul trouble.
Led by sophomore guard Victor Sanders (16.4 ppg) and junior guard Perrion Callandret (14.4 ppg), Idaho have a balanced scoring attack from top to bottom.
To win this game, Sac State will need to contain the three-point line on defense and hit their shots early and often using the same recipe they cooked up the last time these teams played. Idaho sophomore guard Chad Sherwood lit up the Hornets from the three-point line in their Jan. 28 game, scoring 18 of his 22 points from three-point range.
Though Sanders and Callandret are the top scorers, forcing Sherwood into tough shots inside the arc will help to eliminate one source of scoring and turn Idaho into a one-dimensional offense.
The x-factor for Sac State will be Stuteville. If he can stay out of trouble and not turnover the ball, the Hornets can get the flow of their offense going early on. Early starts have not been common for the team as of late.
One thing to keep track of in both games is the amount of minutes senior guard Cody Demps plays. Demps was one of the leading scorers for Sac State before going down with a severe quad injury earlier in the season.
Demps came back on Thursday, Feb. 11 and according to coach Katz, he will continue to see his minutes increase as his body adapts to the game .
Both games start at 7:05 p.m. and will be played at The Nest on the north end of campus. Admission to the games are free for all students with a valid OneCard. Ticket prices range from $5 to $15 and can be purchased online at hornetsports.com. All men's basketball games can be streamed for free at bigskyconf.com