Eastern Washington silences Hornets' buzz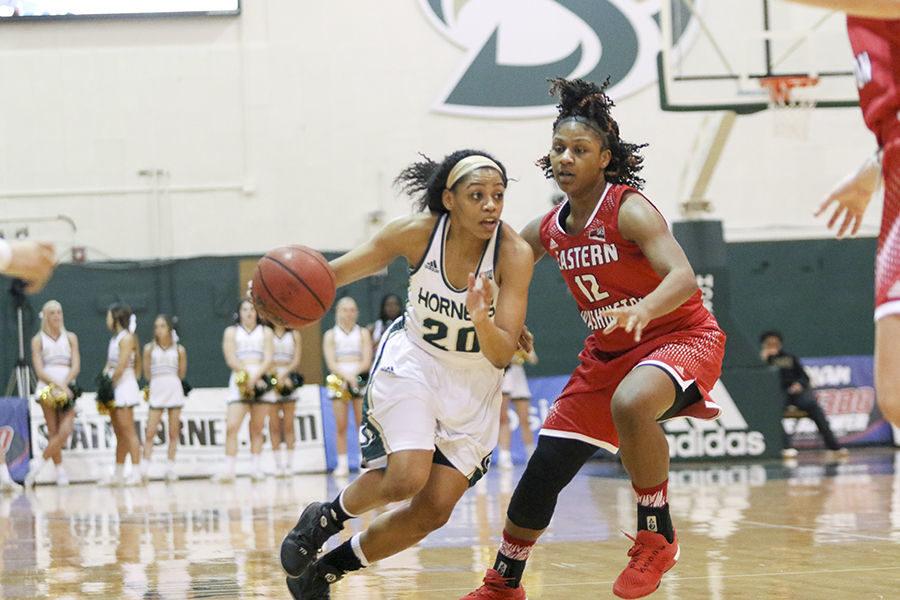 The Sacramento State's women's basketball team came into Saturday's game with their backs against the wall after a tough Thursday night loss to Idaho.
With Eastern Washington coming into the Nest as the Big Sky Conference leaders, Sac State had a battle on their hands. Unfortunately, their high-octane offense would not be enough, as the Hornets (7-12, 4-4 in Big Sky) lost 100-81 Saturday afternoon.
Senior guard Adella Randle-El scored 17 points to lead the Hornets and finished with seven steals, one short of the program record. Redshirt sophomore guard Abbey Goodsell had 15 points on 5-of-8 shooting from 3-point range.
Sac State head coach Bunky Harkleroad contributed the loss to his team's lackluster approach.
"We're not playing hard enough or consistent enough right now," Harkleroad said. "We were back on our heels, and Eastern Washington was attacking us, which shouldn't happen."
The first quarter started off fairly rough for Sac State, with Eastern Washington (14-7, 8-1 in Big Sky) countering the Hornets' usual fast-pace style with a slow tempo game. The end result was five steals for Eastern Washington to Sac State's three, resulting in a 23-17 lead to end the first.
In the second quarter, Sac State got their groove back. Randle-El recorded five of her six first-half steals in the quarter, and Goodsell went 4-for-5 from 3-point range to keep the game close. Sac State finished the first half down 45-44.
Eastern Washington came back in the third quarter ready to play. Guard Tisha Phillips scored seven points in the quarter, contributing to the team's 28-point spree, outscoring Sac State by 12 to end the third quarter with a 73-60 lead.
Randle-El pointed out the lack of energy in the third quarter as a consistent problem for Sac State.
"We kinda got comfortable in the third quarter and ended up doing nothing," Randle-El said. "It's been a consistent thing all season that we've come out and played bad in the third."
The fourth quarter was a little more forgiving to Sac State, but Eastern Washington was determined to leave the Nest with a win. The Hodgins sisters, Delaney and Hayley, scored 17 of Eastern Washington's 27 points in the 4th quarter, negating a late charge by Sac State. A pair of Ashli Payne free throws at the end of the game put Eastern Washington at the 100-point mark, and those would end up as the final points of the game.
Goodsell said it came down to Eastern Washington playing better overall.
"They played better defense and got more shots off than we did the second half," Goodsell said. "We didn't match their energy to start the third quarter, and it was rough for us."
With this defeat, Sac State has lost three home games during the regular season for the first time in Harkleroad's tenure with the team.
Sac State will be on the road for the next two games, starting with a 7:05 p.m. game on Thursday, Feb. 4 in Montana, where the Hornets have never won a game on their court in program history.