Sac State Journalism Department presents the Anatomy of a Story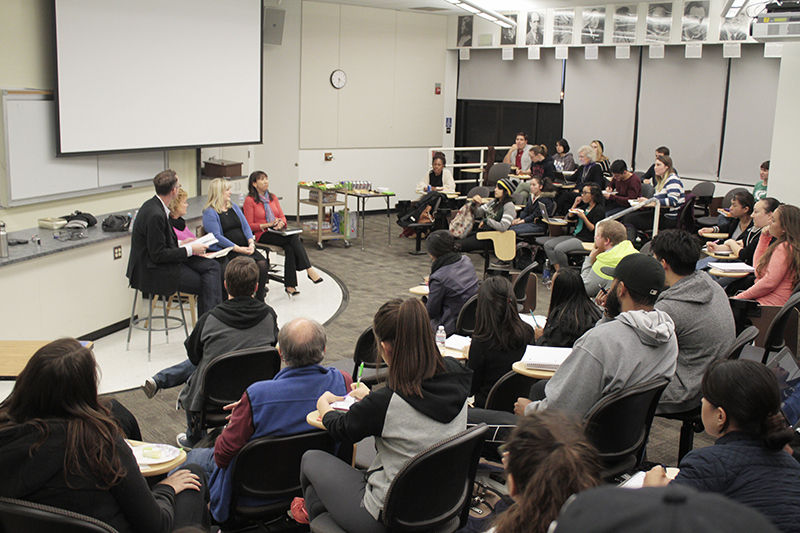 The Society of Professional Journalists at Sacramento State presented its first event of the year, "Anatomy of a Story," a panel discussion on how to handle sensitive stories, on Nov. 4.
The panel featured Sacramento Bee reporter Cynthia Hubert, Associate Vice President of University Communications at Sacramento State Jeannie Wong and Sacramento State Writer for Public Affairs and Advocacy Dixie Reid.
Published in the Sacramento Bee, Hubert wrote a story on how President Robert Nelsen and his wife Jody helped the family of Sac State trainer Jeffrey Law, battle the grief of their son's suicide.
While the main subject of the panel had to do with the development of Hubert's story, a variety of topics were also brought up. Subjects consisted of how to develop skills when reporting sensitive topics and what outlets to be aware of when looking for a story on campus.
Hubert said when developing a story with sensitive context, students must know how to appropriately approach their topic. While at times the writing process may become difficult, students should not get discouraged from the visual they are trying to paint to their readers.
"Not every story has a neat, perfect, Hollywood ending and to me that is just life," Hubert said. "To me in a gathering, in a group of a thousand people, somebody has an incredible story and its only about keeping your mind open, talking to people, listening to people really hearing what they're saying… to me everybody has a story."
Wong said Hubert's story is an example of a well-written piece that brings attention to a sensitive topic of the passing of two young lives.
"All the best stories aren't just a great yarn, it's a great yarn that makes a difference because it made you think, it made you want to pass a along, it made you want to learn more about homeless, it made you want to do something about suicide," Wong said.
In order for people to not feel intimidated by a journalist, being relatable and inviting is key in order for people to feel comfortable and want to share their thoughts on a story Wong said.
"If you come across as human and compassionate people want to tell their story, this is their time to share… they want to share," Wong said.
Journalism major Daisy Gutierrez was one of the many students who attended the panel discussion curious to find out more about the story she had previously heard about.
Gutierrez explained she found the development of Hubert's story interesting due to her discovery of the story's subject came from an unexpected aspect.
"It's interesting to see how she found out about the story through an obituary and I found it cool to see how one simple thing leads to a big picture," Gutierrez said.
Sigrid Bathen, a journalism professor at Sacramento State, attended the panel discussion and agreed with what the three panelists had to say. As a former Sacramento Bee Reporter herself, she also said stories of a highly sensitive caliber must be handled with great focus.
"It's a fine line between being overly aggressive and (gently) convincing people to talk who have just experienced terrible losses," Bathen said. "It's important too to remember that these are, more often than not, 'ordinary' people who may not have experience with the media; it's important to respect their boundaries, and not exploit their pain in order to get a story."