Payne brothers inseparable on and off field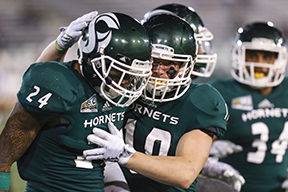 In high school, identical twin brothers Nicholas and Anthony Payne told each other they'd have to separate if they were to play for different football college programs while they were recruited. Fortunately, multiple programs wanted both of them and they were offered scholarships at Sacramento State.
The brothers, who both play cornerback for the Hornets, said it has been a blessing they are able to compete together in the collegiate level.
"It's amazing, it's rare," Anthony Payne said. "The percentage of twins playing college football is extremely low, just to hear that is a blessing."
Anthony Payne has accumulated 23 tackles and three interceptions while Nicholas has 15 tackles and a forced fumble for the Hornets, who enter Saturday's road matchup against Northern Arizona (6-3 overall, 4-2 in Big Sky) at 2-7 overall and 1-5 in Big Sky Conference play.
Sac State coach Jody Sears described each brother differently, saying Anthony Payne is more outspoken and Nicholas is quieter, but both lead by example.
"They're an unique set of twins," Sears said. "They represent our standards very well. They're good students and we're glad we have them on the team."
Nicholas Payne said he and his brother had an up-and-down recruiting process due to being undersized.
At Mira Mesa High School in San Diego, both brothers were listed at 6 feet 1 inches tall and 160 pounds during their senior year in 2010.
"We were late boomers I guess you could say," Nicholas Payne said. "But I think that was the main thing that they were downgrading us for, our size. Our weight at least."
Before the brothers decided to play at Sac State, Nicholas and Anthony Payne were recruited by several Pac-12 schools including Colorado, Utah and Oregon State. The brothers were being heavily recruited by Colorado and almost played there, but the talks between the program's scouts fell through before Sac State offered them their only Division I scholarships.
"At the end of the day we get to play Division I football," Nicholas Payne said. "It's a blessing that we both got full [ride] scholarships. That was our dream, so we can't really be mad that we didn't go to a Pac-12 school."
The brothers have been through several challenges in their collegiate careers. Anthony Payne didn't enroll at the university until the spring 2012 semester due to academic issues and Nicholas suffered multiple injuries in 2011, 2013 and 2014. He sat out the entire 2011 and 2013 seasons before suffering a knee injury last season.
Since Anthony and Nicholas' time at Sac State began, their parents Caesar and LaDon Payne try to make it to every game.
"They love coming to the games," Nicholas Payne said. "We're from San Diego, so they book their flights up here in advance… and they literally invite all their friends to all the games. So honestly, they're probably having more fun than us. Sometimes after the game or if we see them at the tailgate, they're just having so much fun. They just look forward to see us play every Saturday."
Their father Caesar Payne, who played cornerback at San Diego State, was an influence on them to play football.
"He taught us the position at a young age," Anthony Payne said. "It was just cool to learn from someone who actually did it and played at this level and he still coaches us up until this day … I know it's a dream come true for him just to see his sons pursue their career after him as well. He's a big role model for us."
Nicholas Payne said he and his brother get support back home from friends and family in San Diego, especially on Facebook.
"We like to post a picture or give them updates and we got a lot comments and feedback from our family and friends on there," Nicholas said. "Everyone just loves to see how good we're doing up here."
The brothers are nearly inseparable, as Nicholas Payne said they're doing the same thing "nine times out of 10."
"We have a very unique relationship," Nicholas Payne said. "Sometimes I don't have to say anything to him, I just know what he's going to do. It's a unique bond we have and the love that we have for each other is like no other. Being twins, we just feed off each other and there's never any hate, it's just all love."