Hornets face challenges in final road game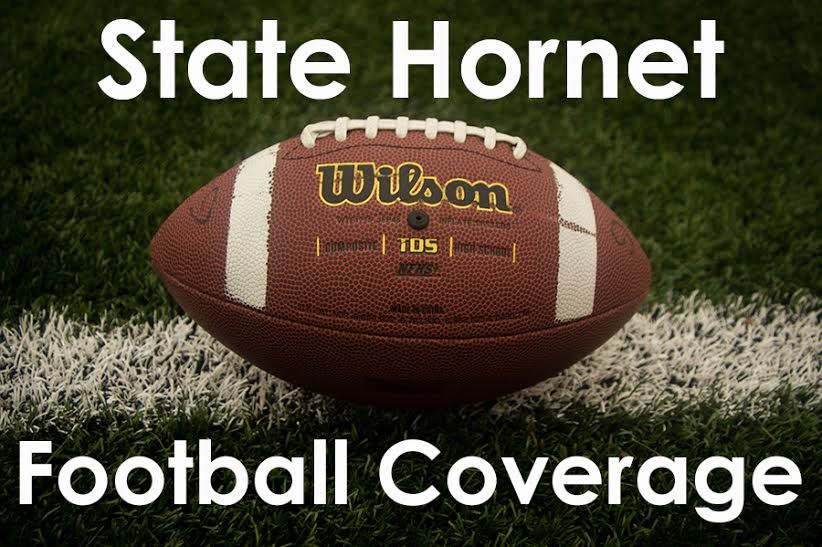 In the final road game of the season for Sacramento State football, the team will face a challenge against a streaking Northern Arizona squad this Saturday.
The Lumberjacks (6-3 overall, 4-2 in Big Sky Conference play) have won three straight games and have averaged 55.6 points during their streak.
"They might be the hottest team in the league right now," said Sac State coach Jody Sears. "[They have] a really good running game and an extremely good passing game with those weapons out there on the edge and the young quarterback, who is a phenomenal player."
Coming off last weekend's 36-14 loss against Cal Poly, the Hornets will enter the matchup at 2-7 overall and 1-5 in conference play.
The Lumberjacks' run-pass option offense features freshman quarterback Case Cookus, who has put together a phenomenal year, throwing for 2,354 yards, 27 touchdowns and averaging 10.1 yards per completion. Cookus has been efficient with a 70.4 completion percentage and only throwing three interceptions.
"He's a gem, I like him," Sears said of Cookus.
Sears' own freshman quarterback, Nate Ketteringham, has improved each game since his first start against Southern Utah on Oct. 17, in which he threw for 117 yards with a 42.4 completion percentage and an interception in a 44-0 loss.
In his last two games, Ketteringham has thrown for 622 yards (including a career-high 335 yards last Saturday) and four touchdowns. The true freshman has been as efficient with the ball as Cookus, completing at least 75 percent of his passes and no interceptions in the Hornets' last two games.
"I was really pleased with probably 80-90 percent of the snaps Nate took the other night," Sears said of Ketteringham's performance against Cal Poly. "They were stacking the box on us, obviously, people are going to do that a young quarterback, but I think he did a nice job getting the ball out when he needed to."
Despite the good numbers from Ketteringham, Sears said his young quarterback needs to improve on his pocket presence.
"He made a couple of freshman mistakes, but he's a smart kid, he's a competitor," Sears said. "He needs to step up in the pocket, maybe throw it away two or three times, but that's [part of] the maturation process and hopefully we could take another step this week."
On the defensive side, Northern Arizona coach Jerome Souers said Sac State linebacker Darnell Sankey is one of the best players in the Big Sky.
"He's as good of a player you're going to see in this conference," Souers said.
Sankey has put together an impressive year, recording 125 tackles and 13.9 per game, which is good for second in the Football Championship Subdivision behind Deon King of Norfolk State.
The linebacker said Cookus and the Lumberjacks' running back Casey Jahn are great players after watching film on them the past week.
"Their running back is a hard runner," Sankey said. "[He's] a really hard, tough-nosed runner and their quarterback is nice. He has a nice arm and looks like he could run a little bit too, so we got to do what we got to do and make sure he's contained."
Saturday's game is slated for a 1 p.m. kickoff at the Walkup Skydome in Flagstaff, Arizona.
The Lumberjacks lead the all-time series 11-7 over the Hornets, including a 5-4 home advantage. Sac State's last win over Northern Arizona was a 40-10 road victory on Oct. 30, 2010, which is the largest margin by the program against the Lumberjacks.