Sac State holds Working Out Your Stress workshop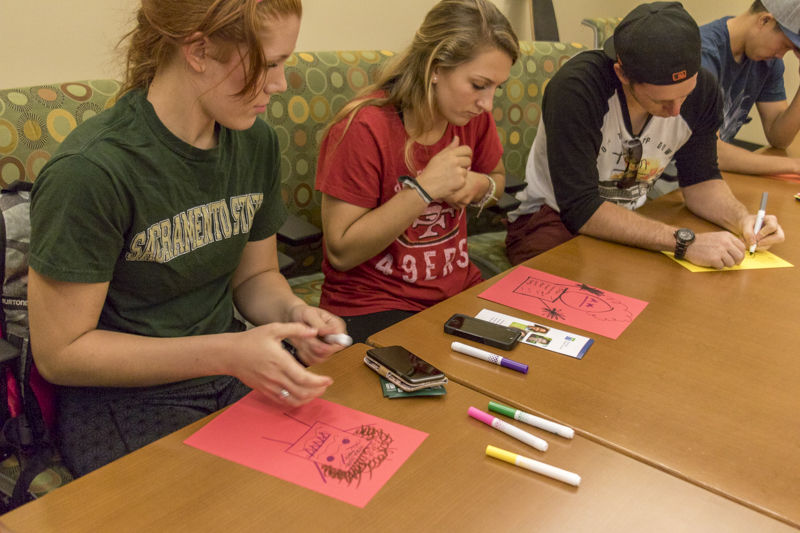 Sacramento State has a weekly Working Out Your Stress workshop at The Cove in the WELL that gives students some ideas on how to manage stress and find balance in their lives.
This week students were advised by Sergio Juarez, a senior majoring in social work with a minor in child development and Andrew Leung, a junior majoring in business and communication studies. The students could work out their stress by taking advantage of their creativity whether it be drawing, playing a game or telling jokes.
"I honestly didn't really know what to expect," said Maria Porras, a sophomore majoring in government and communication studies. "It was kind of just an 'oh this is interesting. I wonder what tips they'll give us.'"
"I feel like what they said was really helpful. It's so true, you don't really think about the outcomes or the harm stress can cause," she said.
During the workshop students were asked to draw "stress monsters," explain what their monster represents and have someone else at the workshop make the monster less intimidating by drawing on it.
Antonio Martinez, an undeclared freshman, drew an actual monster.
"Mine was unfinished, but it's pretty much more monster-esque. It had different tattoos and labels on it describing what my stress was," Martinez said.
"She [Porras] added a bow tie on top, added a bandana, gave it big hair, a jacket, a tutu," Martinez said of his finished, less intimidating stress monster.
Juarez also made it clear that students can take advantage of other services on campus to help manage their stress.
"There are services available to students that you've already paid for with student fees and tuition," Juarez said. "On the second floor [of the WELL] there's the counseling department. So if you feel like these stressors are becoming overwhelming, then that is the perfect place for you all to go."