Men's soccer loses 3-1 to UC Riverside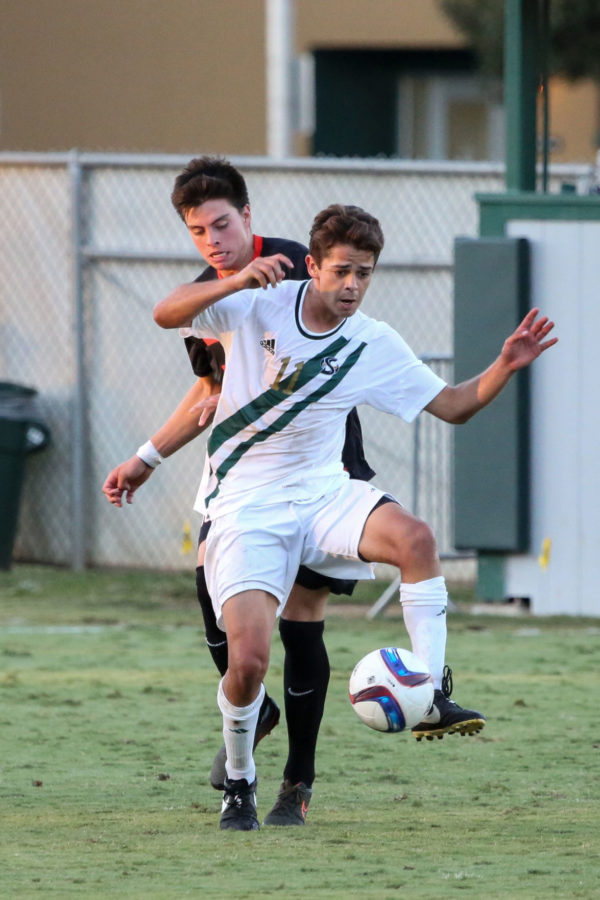 The Sacramento State men's soccer team didn't have many reasons to celebrate on Saturday night, as the team allowed two goals in the first half en route to a 3-1 loss against UC Riverside on the road on Saturday.
The Hornets' defense, which had been improving as of late, disappeared for the second straight game in a row, allowing a goal within the first ten minutes of the game. Highlanders' forward Norberto Ochoa scored on an assist from midfielder Emilio Huerta at the nine minute mark.
Head coach Michael Linenberger was not happy with how the team let the game get away so quickly.
"We had two goals in the game that we felt like we gave to them," Linenberger said. "We can't continue to let that happen in Big West conference play."
The second goal for the Highlanders came at the 40 minute mark, when Kouri Nago scored on a pass from the right side. At the end of the first half, the Hornets had been outshot 11-5.
The second half of the game was more competitive for both teams. The Highlanders scored again in the 67th minute, with Ochoa scoring his second goal of the game (his seventh on the season). However, the Hornets refused to accept a second straight shutout on the road.
At the 76 minute mark, Hornets freshman forward Jessie Gonzalez took a circle pass from defender Javier Munoz and turned it into his first goal of his collegiate career. Though the Hornets out-shot the Highlanders 8-7 in the second half, it would not be enough to avoid a loss.
Linenberger said he felt better about the end result of the game, but is looking forward to coming home.
"I thought we performed better in the second half; we played more dangerous," Linenberger said. "But now we come back home, and we always tend to play better on our field."
The Hornets dropped to 0-2-0 in the Big West Conference (3-6-1 overall). They start a three-game homestand on Thursday, Oct. 8, when they host UC Irvine at Hornet Field. The game will start at 4 p.m.