Men's soccer look to win second straight conference game on Saturday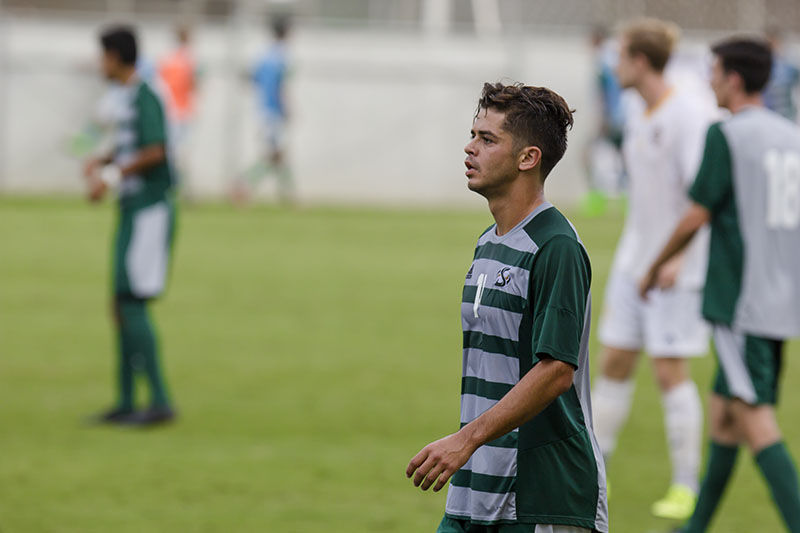 Fresh off a much-needed victory against UC Irvine, the Sacramento State men's soccer team (4-6-1, 1-2-0 in Big West Conference) looks to capitalize on their win this Saturday, when they face off against conference rival Cal State Northridge (4-5-2, 0-2-1 in Big West).
Saturday's game is the second of a three-game homestand for Sac State, who has played well at home this season. The Hornets are 2-0-1 when they play at Hornet Field.
"Our biggest goal is to win at home and get as many points as we can," said Sac State forward Brad Bumgarner.
The redshirt freshman forward is a huge reason behind the Hornets' success. Going into Saturday's game, Bumgarner leads the team with three goals on the season.
Sac State goes into Saturday's conference game needing a win to move up in the North Division rankings. In their losses against Cal State Fullerton (2014 Big West champions) and UC Riverside, the Hornets were outscored 5-1; with only 16 shots combined in both games.
In the Hornets' 3-2 overtime victory against UC Irvine on Thursday, the team took 16 shots in the entire game; scoring three goals in a game for the first time this season.
In the win, the Hornets also expanded their offensive production. Isaac Flores, Jessie Gonzalez and John Quintanilla all scored in the game, creating a four-way tie for second place on the team with two goals apiece on the season (sophomore forward Cylus Sandoval also has two goals).
The Matadors come into Saturday's game also needing a win. The Matadors lost their first two conference games against Cal Poly and UC Santa Barbara, both in close contests. In their last game on Thursday against UC Davis, they went to double overtime, finishing in a 1-1 tie.
One thing the Hornets will have to watch for is the Matadors' aggressive style of play. Like the Hornets, the Matadors play tough with high intensity; they have 20 yellow cards on the season, and Sac State has 24. Unlike the Hornets, Cal State Northridge has a hard time getting shots off.
Sac State averages 10.9 shots per game to the Matadors' 8.4. Cal State Northridge also allows an average of 12 shots a game; which could benefit the Hornets.
"I feel pretty good about our chances," Gonzalez said. "I'm pretty sure the team does, too. As long as we continue to play hard, that will turn into more wins."
Assistant coach Matt McDougall, while confident, isn't turning his back on the Matadors.
"It's no easy task on Saturday," McDougall said. "CSUN is a great team, but I do feel that our players will step up to the task."
Saturday's game against Cal State Northridge is slated for a 4 p.m. start time.