Men's soccer drops Big West opener, 2-0 to Cal State Fullerton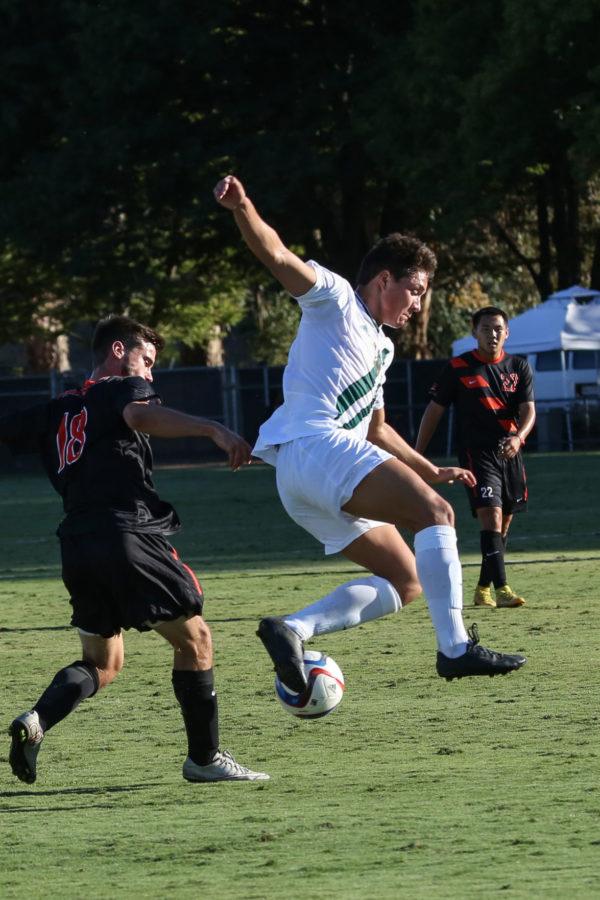 The Sacramento State men's soccer team went into Big West conference play winning three of their last five games.
Unfortunately, defending conference champions Cal State Fullerton spoiled the opener, holding the Hornets to no shots on goal en route to a 2-0 victory on Thursday night.
The Hornets (3-5-1 overall, 0-1-0 in conference) had been averaging 11 shots a game going into Thursday's matchup. The Titans' smothering defense held the Hornets to a season-low three shots in the game. In comparison, the Titans had 17 shots, with nine shots on goal.
Coach Michael Linenberger was somewhat disappointed with the final result.
"We took a major step backwards tonight," Linenberger said. "We had plenty of chances to get to the goal, but ultimately we didn't finish the final product."
The Hornets had only one shot in the first half, a clean shot by redshirt freshman Brad Bumgarner in the 18th minute. With a clear view of the goal, he took a chance, but it sailed wide right. Two minutes later, Titans' junior Zach Tyler scored his first goal of the season.
Two minutes after the first goal, Fullerton freshman Ronaldo Pineda took an assist from Diego Sanchez to score his first collegiate goal.
Sophomore goalie James Del Curto had seven saves overall in the game for the Hornets, while his opponent, David Elias, had a blank sheet. The Titans improved to 6-4-0 on the season overall, with a 1-0-0 record in the Big West.
Linenberger said the players were disappointed after the game, but they'll need to rebound soon.
"It's just a matter of mentally building them back up," Linenberger said. "Obviously, with only a day before our next game, we can't really do anything physically."
The Hornets will travel to UC Riverside on Saturday for their second conference game of the season. The Highlanders (4-5-1 overall, 0-1-0) lost on Thursday night to UC Davis in its conference opener.
The game will start at 7:30 p.m. on Saturday.