Hornets prep for Southern Utah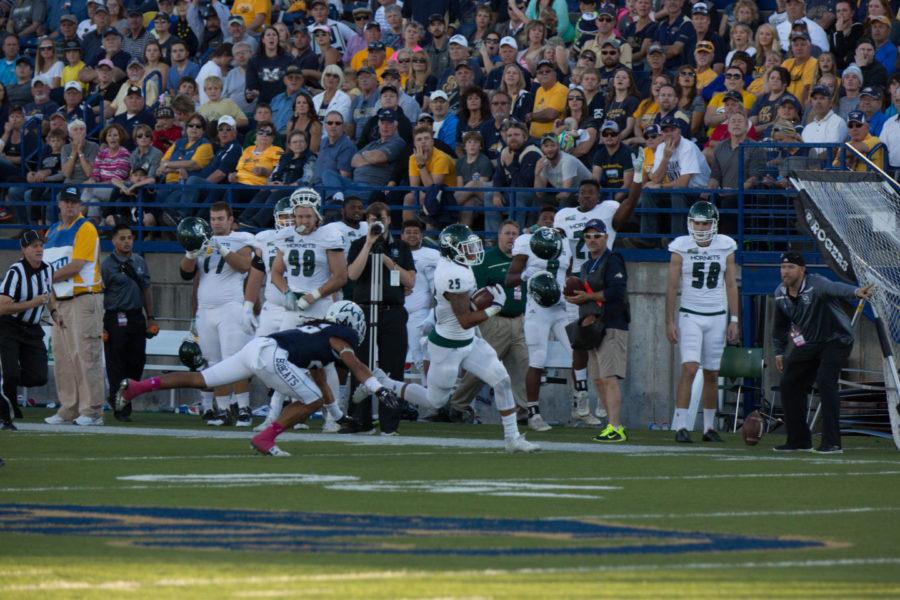 After quarterback Kolney Cassel left last Saturday's game with a shoulder injury, Sacramento State football coach Jody Sears said the offense will be led by true freshman Nate Ketteringham against Southern Utah University this weekend.
Ketteringham will be the third starting quarterback for the 1-5 Hornets this season, as injuries have plagued the position for the team this year.
"This is football and things like this happen," Sears said. "It's the next man up and you don't [have to] abandon the ship. You don't whine and cry about what kind of luck you think you may or may not have."
Sears liked what he saw from the young signal-caller against Montana State University after Cassel went down in the second half.
"[I] was very pleased with the way he managed the offense and how poised he was to go into a hostile environment like that and compete against one of the top teams in the country," Sears said.
Ketteringham went 5-of-9 for 40 yards in relief of Cassel.
The freshman last played at Centennial High School in Corona, California and was a three-star recruit, according to Rivals.com.
Ketteringham helped lead his high school squad to a state championship playoff game and a Pac-5 league title with a 10-1 record in 2014.
In 2014, Centennial was also ranked No. 3 in the state of California and No. 9 nationally, according to MaxPreps.com.
Another Hornet who received an injury against Montana State was running back Jordan Robinson, but he will play on Saturday, according to Sears.
Robinson left the game with a lower leg injury.
The junior said he's getting ready to go against the Thunderbirds.
"I'll be good," Robinson said. "I'm just getting in the trainer's room and getting some treatment on it and it'll be good by Saturday."
Robinson rushed for 108 yards on 17 carries against Montana State in the first half before leaving the game.
It was the fourth straight game he has eclipsed the 100-yard rushing mark, making him the fourth Hornet to accomplish the feat since 2008.
Southern Utah is among the best defenses in the Big Sky Conference, allowing 11.4 points per game and could bring challenges for Robinson and the Hornet offense.
"He's [Robinson] got a big challenge ahead of him, as well as that whole offensive line in terms of their front seven, no question about it," Sears said.
Sac State receiver Shane Harrison said the team needs to focus on themselves as they prepare to face Southern Utah.
'They're a good football team, but we're not really worried about them, we're worried about what we got to do," Harrison said. "The biggest opponent we're going to face all year is ourselves, so we're just trying to get that dialed in [our heads]."
Harrison has been having a productive season for the Hornets after not being with the team in 2014 due to undisclosed personal reasons. Harrison leads the team with 28 receptions and 348 yards during his comeback season this year with the Hornets.
Sac State will look to break its five-game losing streak on Saturday, as Southern Utah is one of two teams in the Big Sky that hasn't lost against a conference opponent this season. The other team is Eastern Washington University.
The overall series between Sac State and Southern Utah is tied at 7-7.
Last season, the Hornets defeated the Thunderbirds 42-21 at Hornet Stadium on Nov. 8, 2014.