Football drops fourth straight in 27-20 loss to Northern Colorado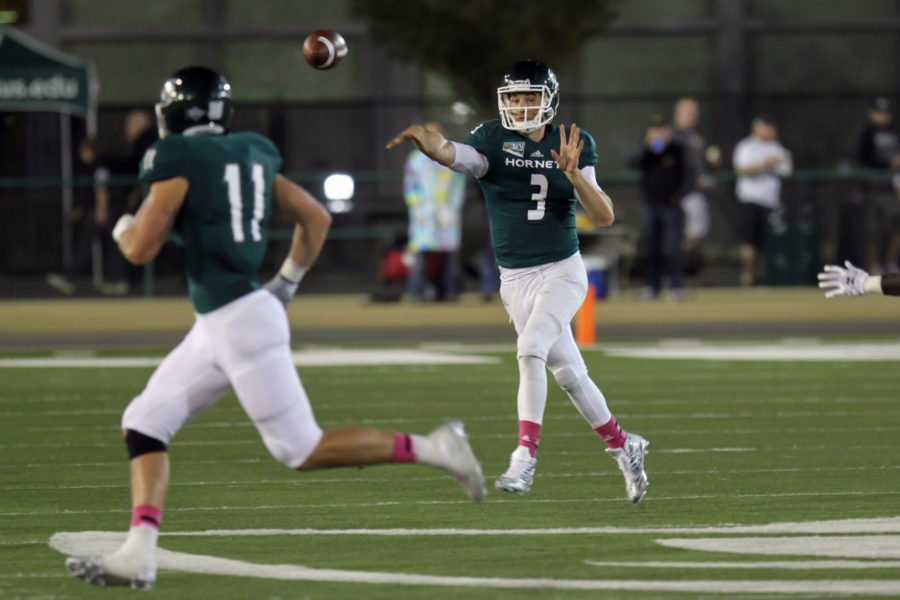 Making his first start for Sacramento State, quarterback Kolney Cassel had the Hornets in position to win with 36 seconds left to play, but his pass to Nnamdi Agude went incomplete on fourth-and-goal in a 27-20 loss to the University of Northern Colorado on Saturday night at Hornet Stadium.
It was the Hornets' fourth straight loss and dropped their record to 1-4 overall and 0-2 in Big Sky Conference play.
Cassel stepped in for an injured Daniel Kniffin, who was out due to a shoulder injury he received in last weekend's 28-20 loss to Eastern Washington University.
It was Cassel's first start since Sept. 20 of last season, when he started for Southern Methodist University against Texas A&M University before transferring to Sac State last Spring.
Cassel was disappointed with the loss in his Sac State debut.
"There's not really much I could say," Cassel said. "We need to win, the main thing we need to do is win ball games."
A highlight for the Hornets was running back Jordan Robinson carrying the ball 28 times for a career high 158 yards. It was the running back's third straight game with at least 100 rushing yards.
However, his rushing performance on Saturday was overshadowed by his fumble in the fourth quarter that was returned for a 58-yard touchdown by Trevor Douglass that gave Northern Colorado the lead with 4:12 left to play.
Robinson said his fumble was "unacceptable."
"The team needed me to get a first down and make a play and I didn't do it," Robinson said.
Cassel went 28-of-44 for 294 yards and two touchdowns. His 294 yards is the highest total for a Sac State quarterback in a debut, which surpassed Kniffin's 282 mark from Sept. 5 this season.
There were many mistakes made by the Hornets, including a 100-yard kickoff return by Hakeem Deggs that gave Northern Colorado a 7-0 lead to begin the game.
Later in the first quarter, Cassel threw his first touchdown as a Hornet on a two-yard pass to tight end Stone Sander to tie the game. It was Sander's first touchdown of his career.
After Bears' kicker Jamie Falloon made a 28-yard field goal early in the second quarter, Brad Cornish tied the game with a 22-yard field goal that ended a 14-play, 85-yard drive in the final two minutes of the first half.
Down 20-10 through three quarters, the Hornets tied the game with a 35-yard field goal and a 14-yard touchdown pass from Cassel to John McGill. It was McGill's first career touchdown reception, who didn't have a catch this season heading into the game.
On the game-tying scoring drive, Cassel had completions of 21 and 40 yards to Isiah Hennie and Sander. The 40-yard play was the longest in both Cassel and Sander's careers.
Before Northern Colorado took the lead, the Hornets were driving the ball down the field when Robinson was stripped by Keifer Morris.
"We need to execute and limit our mistakes," Cassel said.
Penalties were a problem for the Hornets, as they committed nine overall for 93 yards.
Coach Jody Sears said they need to be a more mature team.
"We lacked some experience in spots," Sears said. "We got to grow and we have to become more disciplined."
Sac State will look for its first conference win next weekend on the road against Montana State University, who are ranked No. 11 in the Football Championship Subdivision top-25 coaches poll.
Montana State will enter the matchup at 2-2 overall and 1-1 in conference after losing in a 49-41 shootout to Northern Arizona University on Saturday.
Next Saturday's game is slated for a 4 p.m kickoff.