Big West playoff race proves tight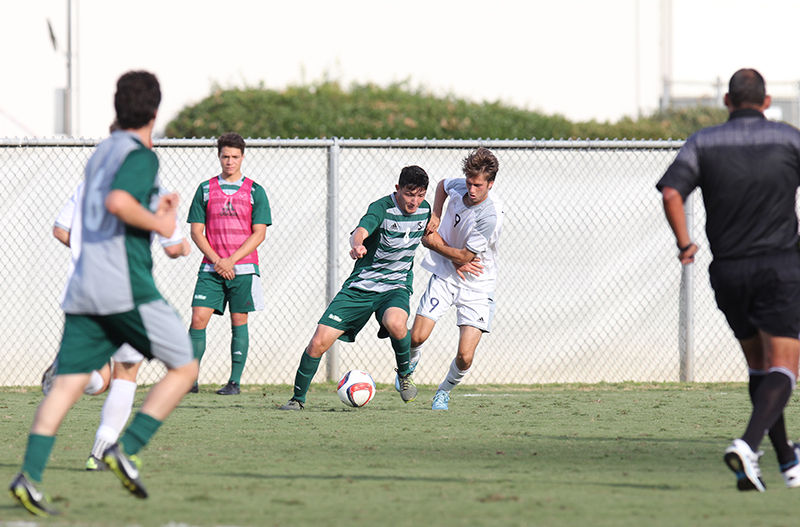 If there was a time for the stingers to come out in full force for Sacramento State men's soccer, now would be that time.
After winning the Causeway Cup against UC Davis 1-0 on Saturday, Oct. 24, the Hornets (6-8-2 overall, 3-4-1 in the Big West Conference) were officially one point behind the Aggies (7-8-2, 3-3-2 in Big West) for third place in the Big West North Division standings with two games left to play in this season.
Only the top three teams in each division (North and South) make it to the Big West Tournament after the regular season ends. Sac State has 10 points in the standings.
Sac State coach Michael Linenberger was proud of his team after Saturday's win but stressed how important their last games will be.
"We're still in the hunt," Linenberger said. "If we'd lost today, the dream is over, but fortunately we live to fight another day."
Sac State has played fairly well in what has been a truly competitive division this season. The top two teams in the division, UC Santa Barbara and Cal Poly, are ranked No. 19 and No. 20, respectively, in the NCAA national men's soccer rankings.
Though the Hornets have only won three games in their conference, each win has been a quality win. On Thursday, Oct. 8, the Hornets beat UC Irvine 3-2 in overtime. Six days later, on Wednesday, Oct. 14, Sac State pulled off its biggest win of the season, a 5-2 win over UC Santa Barbara.
Sac State student Spencer Thompson, a fifth-year senior, felt very confident about the team's postseason chances after their Oct. 24 win.
"We beat [UC] Santa Barbara at home," Thompson said. "There's nothing that could stop us, only ourselves."
Thompson couldn't be more right about that. If the Hornets manage to make it to the postseason, they will be going up against a Big West South that is hungry to repeat as conference champions. Last season, CSU Fullerton won the conference championship and are first in the south division again with a 4-3-1 conference record and 9-7-1 overall.
The other teams in the south division (CSU Northridge, UC Irvine and UC Riverside) are in a close knit race to finish second and third. As of Oct. 24, CSUN (7-7-2, 3-4-1 in Big West) and UC Irvine (5-9-3, 3-4-1 in Big West) are tied for second place with 10 points, and UC Riverside (6-10-1, 2-6-0 in Big West) is sitting in third with 6 points.
The last two games for Sac State will be the most important they have played all season. On Wednesday, Oct. 28, they go on the road to face UC Santa Barbara in what will be a revenge game for the Gauchos. In the Oct. 14 loss to Sac State, the Gauchos allowed a season-high five goals; UC Santa Barbara had not allowed an opponent to score over two in a game all season.
On Saturday, Oct. 31, the Hornets come back home for what will be their season finale against Cal Poly. Sac State lost to the Mustangs on Wednesday, Oct. 21, by a 2-0 score on the road.
Sac State sophomore defender Paul Geyer, who was a freshman when the Hornets made it to the Big West Conference tournament for the first time in 2014, gave the North division credit when it came to competitiveness.
"Everyone in this division is so closely leveled that on their best day, anyone could beat anyone," Geyer said. "No one gave us a chance to beat Santa Barbara, and we beat them 5-2."
After UC Santa Barbara and Cal Poly tied 2-2 on Saturday, Sac State will need some luck if they are going to make it to the postseason tournament.
Here is the scenario that would work best for Sac State:
Sac State needs a win against UC Santa Barbara (16 points) on Oct. 28.
Cal Poly (15 points) needs to beat UC Davis on Oct. 28. If Cal Poly wins, Sac State would take over third place with 13 points, leaving UC Davis in last place with 11 points with one game left. Cal Poly would jump to first place with 18 points and UCSB would be in second with 16 points.
Sac State would then need a win against Cal Poly on Oct. 31 in order to keep their postseason hopes alive. If the Hornets lose, they would need UC Santa Barbara to beat UC Davis on the same day. If the Gauchos win, Sac State would finish third in the division, making them eligible for the postseason.
With how close the race is, there is no telling how the North division will look at the end of the season. At this point, the North division is a puzzle that won't be put together until Halloween.
Geyer summed it up best when it came to guessing how the final division outlook might be.
"We could go from being in last place to being second and hosting a tournament game," Geyer said.