Why we are lucky to have President Nelsen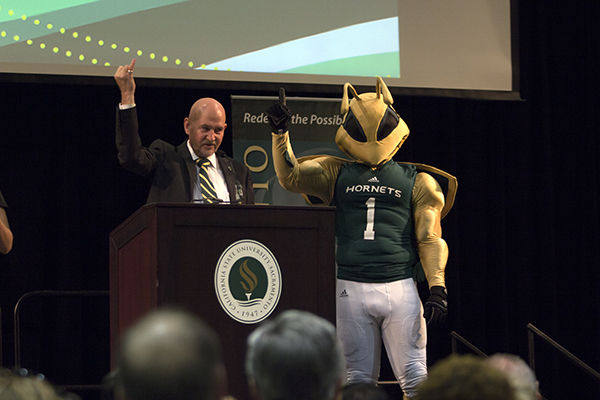 If you have not heard, we have a new president: President Robert Nelsen.
On August 27, 2015, Nelsen made his first Fall Address to Sacramento State in the University Union Ballroom. He covered topics such as graduation and retention rates, resources for DREAM Act students, and the budget for more faculty members after he was welcomed with a standing ovation.
Personally, I was skeptical as to how he was going to approach this presidency since he is not native to Sacramento, and the CSU system has been under fire about topics such as budget cuts recently.
However, I changed my tune after I sat through an hour of his riveting and inspirational speech.
Our new president said encouraging things during his address, covering topics that the entire Sac State community was eager to hear. He discussed graduation rates and how we need to focus on students' individual needs versus the school needs.
"We should never lower our standards just so [students] graduate sooner," Nelsen said.
He talked about how he wants the students to graduate in 4 years if that is their plan for their college career. Neslen announced that Sac State would be starting an incentive program for students to get through in four years.
"Students taking 15 or more units a semester will get a $500 incentive for the next semester," Nelsen said. He also said there would be a $1000 incentive offered to students if they take a minimum of 6 units in the summer session as well.
Nelsen also tackled the topic of budget for new faculty. He informed the audience that "we will be spending every dollar we have so there is no margin for error." He plans to address this issue head on and use all of our funding to aid the school in welcoming new students and faculty in addition to building a new science building.
He touched hearts all over the room when he demanded that Sac State gives its love and support to all of its students, speaking on the lack of support for African American and DREAM Act students.
"We must also support our lesbian, gay, bisexual, and transgender students," he said.
Nelsen teared up while he was mentioning how much he wishes he could give to Sac State students. Almost for the entire duration of the speech, it sounded as if he was constantly holding back tears. Tears of joy, sadness, excitement, endearment- who knows? But this president obviously cares about Sac State students.
At the end, he invited Herky the Hornet on stage and threw his hands up while enthusiastically shouting, "Sac State is number 1! Stingers up!" while the crowd cheered.
Nelsen is the answer to Sac State's resounding prayer for change. He is not afraid to fight for the Hornet family, so we will not fail to welcome him in with open arms and support him in his presidency.
We are very blessed to have a president who actually cares about all of the students and faculty. Here's to a new Sac State!