Track, cross country see coaching, personnel changes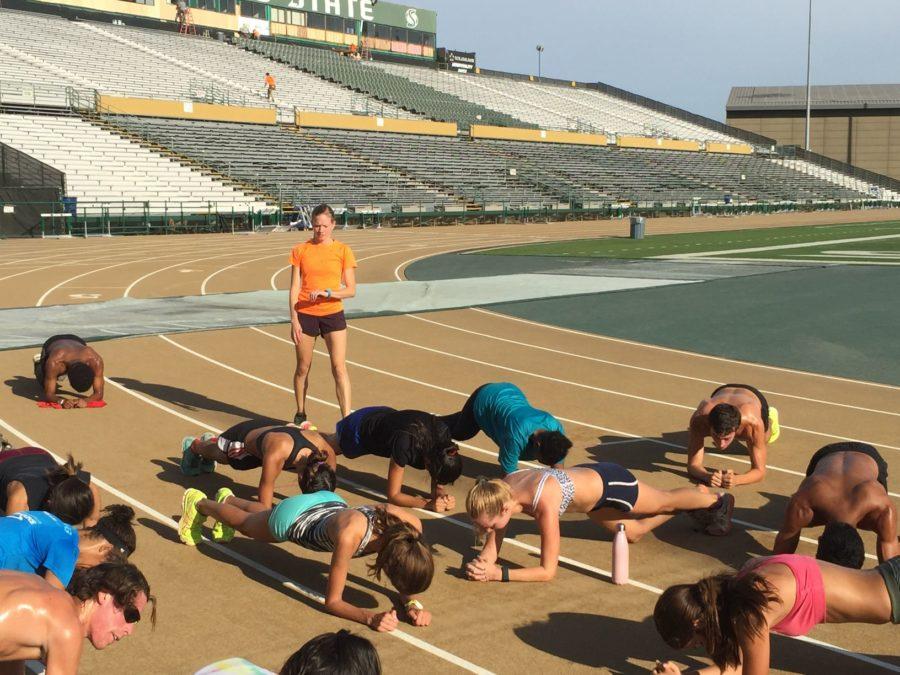 Mike McGough
August 31, 2015
Sacramento State's track and field department saw significant changes in its personnel over the summer, including the departure of its director and the hiring of a new coach.
Laura Harmon was announced as the Hornets' new cross country and distance coach on July 21.
Harmon was hired by Kathleen Raske, Sac State's former track and field director, who resigned less than a month later on Aug. 11.
"Some of the strengths here are phenomenal," Harmon said. "We have an amazing facility."
Raske resigned to fill a vacant director position at Southern Illinois University, her alma mater.
"I know that Laura was [Raske's] number one candidate that she was trying to get, and we're lucky to have her as part of our team," said Sac State Director of Athletics Bill Macriss.
Harmon served at Texas Christian University as cross country coach in 2014 and assistant distance coach in 2015. She ran cross country and long distance for the University of Oregon, where she won All-American honors in 2004.
As she prepares for the season, which starts Saturday, Harmon hopes to increase the bond among her runners. She took a group of them on a cabin retreat two weeks before the first meet of the season for team building and training.
"I'm really big into team being like a family, and also I wanted to carry on the tradition of success that had been created here," Harmon said.
At the end of last Friday's practice, Harmon told her team to "do nothing" and encouraged them to watch Netflix and rest their bodies before the season begins.
Harmon said she hopes to continue the culture of success that Raske worked to create.
"It was definitely a challenging experience," Harmon said of Raske's departure. "You get out here, you're out here for a week, and then you find out that the head coach is leaving. But also, at the same time, that is a part of my profession. I mean, there are a lot of changes, and I don't think anybody holds it against somebody for going on to what they think is a better situation or opportunity for themselves."
Harmon and her runners are still adjusting to the loss of Raske, who took the reins at Sac State in 2003. She helped the Hornets win the Big Sky Conference title 17 times, combined between indoor and outdoor seasons.
Raske only left Sac State because of her opportunity to return to her alma mater, according to Macriss.
"[Raske] told me, outside of the Power 5, it was the only job she would have considered in the nation," Macriss said. "She was very happy here. But our hope is to get that job posted quickly, and I have no doubt that we will have an extremely high level of applicants for that position.
"In the meantime, Jeff Magley, who's been a member of our track staff for the last 10 years, will serve as the interim head coach and has been putting together a coaching staff that our young men and women don't miss a beat."
Sac State's men and women's team took the Big Sky Conference Outdoor Track & Field Championships titles in May, with the women winning and the men tying for first with Northern Arizona University.
Current seniors Chloe Berlioux of the women's team and Jacob Huston on the men's side consistently posted top five overall finishes in cross country's 2014 season. Both expressed optimism for the start they have had with Harmon.
"One of her main things is making sure that she's not introducing things too fast so that we're not going to all be dead [the] first week," Berlioux said.
Huston said he had a meeting with Harmon last week and was on the same page with her coaching style.
"So basically, the entire track and cross country program is entirely completely overhauled," Huston said. "New cross coach, new head coach, new strength and training coaches. So it's a completely different program now, so it's definitely an adjustment. But nothing that's been bad … I think we've cleaned things up to be honest."
Last season, Sac State's women's team finished ninth of 12 and the men finished 11th of 12 in the 2014 Big Sky Conference Championships in November.
Joe Eby, Sac State's cross country coach in 2014, is now the cross country coach at Baldwin Wallace University in Ohio.
Sac State's 2015 cross country season begins Saturday with the Aggie Open at UC Davis.