Margulies bats over .400; softball eligible to clinch Big Sky Tournament spot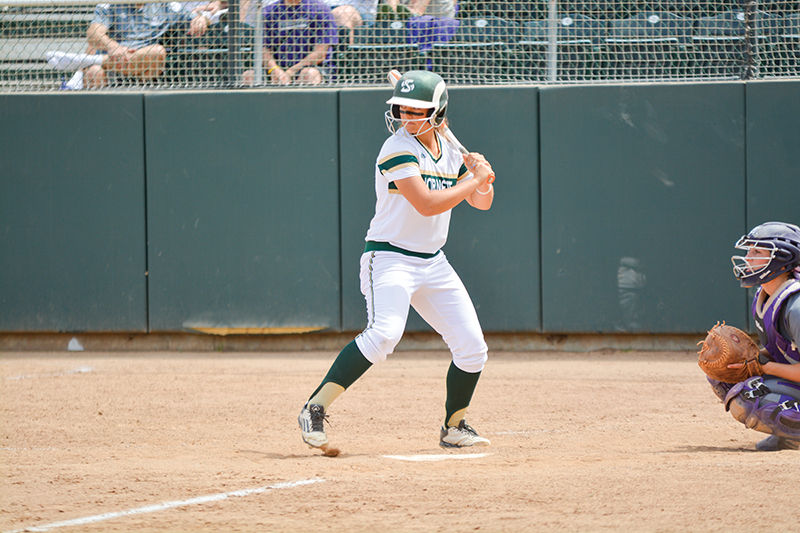 Jose Carlos Maga?±a
April 27, 2015
Sasha Margulies and Alexa Chattleton of Sacramento State softball are putting together productive seasons at the plate, but personal accolades do not mean anything to them if it doesn't help them accomplish winning a Big Sky Conference Championship.
"I'm just one person on a team, and I'm here with my teammates to try and achieve greatness this season," Margulies said. "Our first goal is to win a conference ring … and our second goal is to win the championship."
Margulies and Chattleton are hitting averages of .413 and .370, which is the first and second highest on the team.
With three games left in the regular season, Margulies could become the fourth player in the program's Division I era (1990-present) to hit over the .400 mark.
"It shows that all the work that I'm doing is paying off," Margulies said. "What I'm choosing to do this season [is] going in with the mentality that I can hit any pitch no matter what's thrown at me and no matter what count it is. I think that's been extremely helpful, especially with getting on base."
Currently, Margulies is on a 13-game hitting streak, which is her career best, and tied for the fourth longest in the program's Division I era. During the streak, she has hit two home runs and 15 RBIs.
This season, the first baseman's .413 batting average is good for third in the Big Sky. Also, the junior has hit a team high 15 doubles this season, which is fifth best in the conference.
Margulies credits her offseason training with her father and said it helped her become a high-average hitter.
"He knows my swing better than anyone else," she said. "It's like a reset button with my dad. Whenever I'm not feeling good with my mechanics or I don't feel confident at the plate, we would go out to an open field [and] he will set up a net [and] will pitch live to me."
Margulies has been a force for the Hornets' lineup, hitting four home runs and a team high 31 RBIs.
For Chattleton, having a productive season only matters to her if it helps the team win games.
"I'm definitely not trying to focus on stats," Chattleton said. "[I'm] just trying to stay within myself … and come in clutch situations and get on base whenever I can. If that results in hitting over .400, then that'll be awesome."
For the Hornets, Chattleton has been solid in the fifth spot of the lineup behind Margulies, but has hit in the leadoff spot during the series against Weber State University.
In any situation the senior outfielder approaches the plate looking to reach base every time.
"This year, I've been focused on pitch selection, hitting my pitch, being patient and putting a good swing on pitches that I like," Chattleton said.
This season, Chattleton has hit one home run with 17 RBIs and six stolen bases, along with her .370 average.
Hornets' coach Lori Perez said she's been impressed with offensive production from Chattleton and Margulies.
"I don't think that Sasha gets the pitches that she does if Alexa is not behind her, and I don't think that Alexa gets the pitches she does if Sasha is not ahead of her," Perez said. "Pitchers and pitching coaches have to find a way [of] who they have to pick their battle against. To have them back-to-back is tough for any pitcher."
Perez said the tandem is among the best hitters in the conference.
"I think they're two of the best in our conference, as far as pitchers really got to be on their game if they want to beat them," Perez said.
With three games left in the regular season, the Hornets (23-24 overall, 12-6 Big Sky) are in second place in the Big Sky and are two games behind first-place leader Idaho State University (30-16 overall, 14-4 Big Sky).
With the possibility of Idaho State hosting the Big Sky tournament, winning the tournament is still a goal set by Chattleton and Margulies.
"That's the biggest prize to me," Margulies said. "You could do great in a season, but if you don't win the championship at the end… all the hard work was for nothing. I'm hoping as a unit we could figure it out and get that championship because that's the most important thing."
Chattleton said she will be disappointed with not winning the Big Sky championship in her senior season.
"Definitely the goal for sure is to win a Big Sky championship," Chattleton said. "[We're] definitely trying to get into the tournament and win that [championship] and that's definitely the ultimate goal."
The top four teams in their eight-team conference will qualify for the tournament, which at the moment are Idaho State, Sac State, Weber State (31-17, 10-6 Big Sky) and University of Northern Colorado (17-22-1 overall, 9-7 Big Sky).
Sac State is eligible to clinch its spot in the Big Sky tournament in the Hornets' last series of the regular season on the road against Portland State University (15-32 overall, 7-10 Big Sky). The series will begin Friday, May 1 with a doubleheader starting at 1 p.m. and 3:30 p.m. and will conclude on May 2 at noon.