Men's tennis takes care of North Dakota and Northern Colorado at home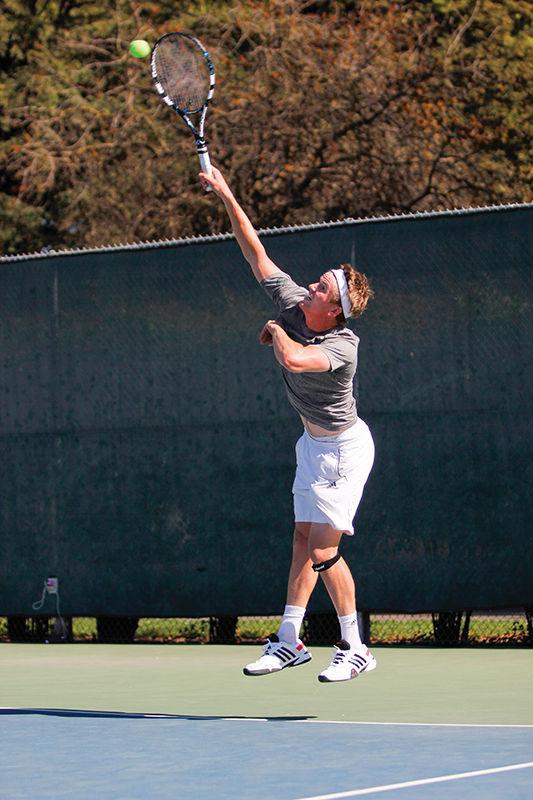 Men's tennis had one of their most successful days of the year, getting two wins over two Big Sky Conference opponents today.
The Hornets started against University of North Dakota and were able to take the first six points of the match and ended up winning 6-1. Against University of Northern Colorado, the Hornets pulled out the win off the back of another final match win from Christopher Clayton.
In doubles, the freshman duo of Kasparas Zemaitelis and Clayton continue to excel playing with one another and got another win today as the No. 3 doubles pairing against North Dakota. They beat Joe Lee and Simon Danyluk handily, 6-1.
Junior Sean Kolar and senior Tom Miller are also beginning to develop a good rhythm together as doubles partners. They played and won as the No. 1 doubles in both matches. Kolar and Miller are now 3-0 on the year in doubles.
The Hornets did not face much opposition in singles against North Dakota as each of their wins came in straight sets. Only Zemaitelis went to a third and ended up losing in a tiebreak, 7-6, 3-6, 11-9.
The premium match of the day came from freshman Clayton as he secured the win for the Hornets for a second time this season. Clayton is now 4-2 in singles on the season.
"Clayton won a huge three-setter for us," said coach Kevin Kurtz.
Another good sign for the Hornets is Miller breaking out of his early season funk to be one of the top players on the team the past few weeks. He picked up another two wins in singles with both coming in straight sets. Since March 8, Miller is 5-1 in singles and 4-2 in doubles.
Kolar went 1-1 in singles today and 2-0 in doubles. He won his match against Dustin Britton of North Dakota 6-2, 6-2, and lost to Ben Gendron in three sets, 6-3, 4-6, 2-6. Kolar is now 7-7 on the year in singles matches.
Junior Niranjan Ram, who recently came back from injury on March 13, picked up another win in the only match he played on the day against Northern Colorado. Ram is 3-0 since returning from injury and is 5-4 on the season.
The Hornets are now 7-8 on the season and will continue their season at 1 p.m. Friday on the road against University of Nevada, Reno.