Women's golf wraps up final tournament of the season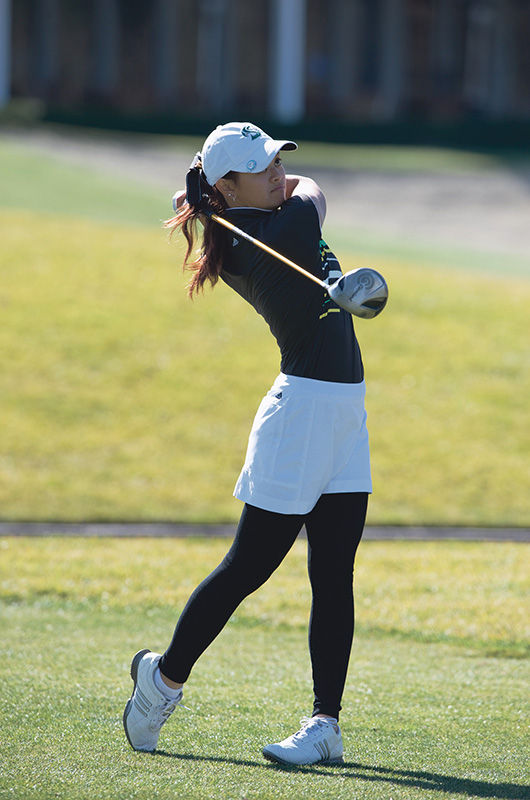 The Hornets women's golf team finished off their last fall tournament in O'ahu Hawaii, for the Rainbow Wahine Invitational, placing ninth out of 14 teams.
The women had quite a big distraction and set back dealing with a hurricane during their tournament in Hawaii.
Junior Rockelle Sande explained taking time off for the hurricane to pass was the roughest part of dealing with the weather while in Hawaii. They had a traveling day, and then a day without practicing because of the hurricane, which caused them to jump straight into their tournament.
"We ended up suspending play the first day, our practice rounds," Sande said.
After the hurricane, the Hornets had to deal with playing in the Hawaii weather of heat and pouring rain.
Senior Sagee Palavivatana said she tried to keep her emotions neutral and not let the weather affect her game.
"Everything kind of slows down a little bit more, you sort of just have to take your time, its hard when your trying to juggle carrying your bag, trying to eat and then holding an umbrella," Palavivatana said.
The unpredictability of the Hawaii weather factored into the mental portion of the women's game as well, Sande said.
"We knew there was a hurricane coming, but we didn't know how severe or what it was going to be like until you get out there, you just have to be mentally prepared to handle that," Sande said.
Other than the weather, the Hornets enjoyed their last fall tournament and are looking forward to spring season.
Senior Lexie Hall tried to focus on appreciating how the team was in Hawaii by looking for the positives in the tournament, despite the setbacks. Hall steered away from letting the stresses of complications affect her and enjoyed herself.
"Especially since it was in Hawaii, I just kept thinking to just have fun, enjoy it and go out there. It's the last tournament of the season so it's a fun wrap up," Hall said.
Overall Palavivatana felt her team and herself did well, but could have done better.
"I felt as though we could've finished as a team a little better, and personally myself I felt as though I could've done way better, but I still feel confident about our team going into the spring season," Palavivatana said.
Last year at the Rainbow Wahine tournament, the Hornets set a 54-hole tournament low record of 902.
Overall in the tournament this year, Freshman Astha Madan led the women with a round of 74, tying for 22nd place in the competition.
The Hornets had a tie for 34th place at the tournament with freshman Katie Dunaway and sophomore Chloe Bartek both with a 54-hole total of 232.
Sagee Palavivatana placed 63rd with a total of 243 and Rockelle Sande shot 79 for a total of 245, placing 67th.
Sac State also had two individuals competing, seniors Lexie Hall (79-80-80-239) and Nicolette Bondura (80-87-84- 251). Hall placed 57th in the competition and Bondura took 73rd.
With the fall season wrapped up, the team will now have to start practicing more on their own because of NCAA regulations.
Sande stated even though the women will now be limited because of NCAA rules, she does not want to lose their regimen. She wants to focus most on her short game and mindset.
"Pretty much try and maintain the same structure as if we were in season," Sande said.
Palavivatana said she will also be focusing on her short game, specifically cutting and chipping. "I really need to drill that into my practice routine a little more, and then I think just keep working on my mental game," she said.
Hall wants to stick to her plan of enjoying her last semester and focusing on her mind game.
"Mostly just on my mental game, cause technique wise I feel like I'm really good right now, and I just kind of need to be confident and trust in myself and just have a solid senior year," Hall said.
Palavivatana said that when it comes to how she feels feels about how her team has done in season so far, she is confident in their abilities moving forward. She stated how the game of golf changes every time you play so how you do one day could be different the next.
"Golf is just such a weird game that you can finish on a good note, or you could finish on a bad note, but it doesn't mean anything for the next semester. So I'm still confident for the next semester," Palavivatana said.
After a short winter break, women's golf will resume competition Feb. 9, in Simi Valley, California.