Review: Great Wall Bar-B-Q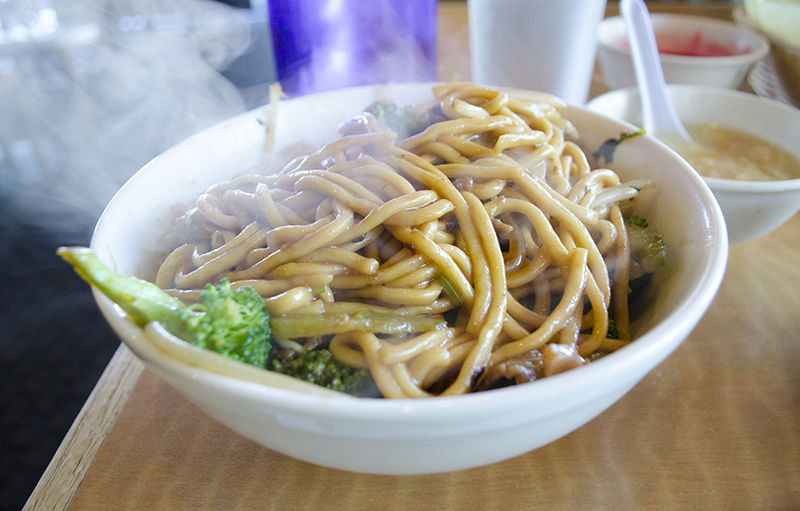 The Great Wall Bar-B-Q is a restaurant known for the buffet style noodle bar, which is all you can eat for dinner and all day on Saturday and Sunday.
Great Wall Bar-B-Q is located on Howe Avenue and is fairly priced.
Upon entering the Great Wall Bar-B-Q, commonly referred to as Mongolian BBQ, the first thing I noticed was the huge, round, iron griddle to the left and the aroma of steaming noodles. The smell coming from the griddle was delectable and made up for the not-so-pleasing service.
When walking to the noodle bar, I noticed the old floral wallpaper and how tightly packed all the tables were. The restaurant is smaller than a lecture hall with five booths against the wall and a handful of tables in the middle.
They had bowls stacked next to the bar waiting to be filled with raw food. First, you start off with the meats. I went straight for the chicken and beef because I was apprehensive to try the odd meats they had available, such as lamb.
The next step in the delicious noodle process was deciding which toppings looked most appetizing. The first topping I noticed was the fresh green bell peppers and I knew once they were grilled it would be heavenly. My bowl was so full of these perfect green peppers, that I only had room to add a little lettuce and tomato. The noodle bar also included mushrooms, spinach, pineapple, and more.
My bowl was filled past the top and was ready for sauce. The sauce is important because it can be the difference between a plain, dry and distasteful meal and a flavorsome comforting meal. I like to add a lot of sauce to my noodles to give it an extra kick. I put about three scoops of the kung pao sauce, one scoop of hot sauce, and two scoops of teriyaki sauce. My food was ready to be cooked by the skilled man behind the huge griddle.
He used two giant chopsticks to push the noodles while walking in circles around this huge cooking device. As the loud sizzling came to an end, I knew my noodles were ready. I watched as he expertly and effortlessly scooped my noodles off the griddle and into the bowl.
My mouth was watering as I walked back to my seat where the waitress had set up rice, soup, chips, and bread to accompany my noodles. My first bite into the steaming hot noodles was a taste of heaven. I had never tried noodles so perfect and fresh.
The waitress did not smile or talk much at all, but she promptly kept my water filled and dropped the check when my bowl was half empty. Even though the service was subpar, $10 for all you can eat noodles was well worth it to me.