Cal routes Sac State in their home opener, 55-14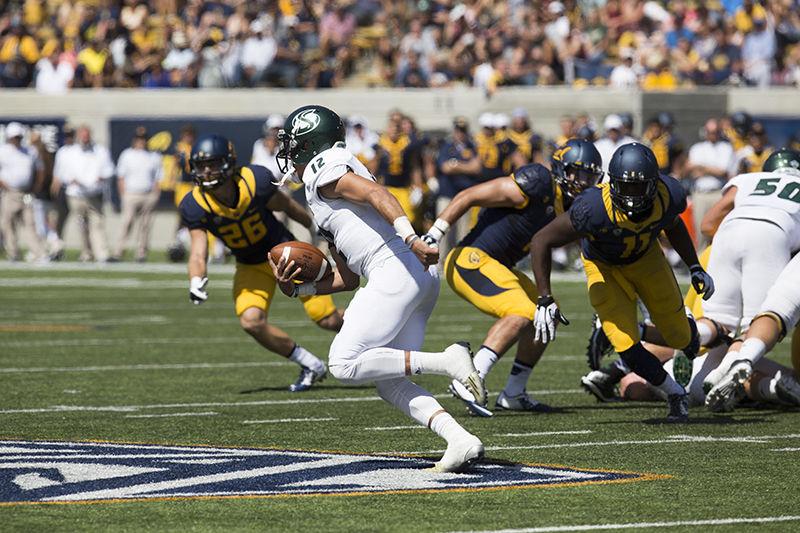 Patricia Carpenter and Jordan Santos
September 6, 2014
Cal's fast paced, no huddle offense was too much for Sacramento State to handle. This resulted in a 55-14 blowout in the home opener for the Bears.
They put up 579 yards of total offense against the Hornets with quarterback Jared Goff completing 17-of-22 passes and throwing for 229 yards. He tied his record of four touchdowns in a single game.
With the Hornets trailing from the beginning, quarterback Garrett Safron had to find a way to create offense to avoid a shutout for his team. With 48 seconds left in the first half, the senior quarterback marched his team down the field resulting in a 3-yard touchdown to tight end Chris Broadnax.
The Hornets were down 45-7 at halftime.
Safron completed 15-of-33 passes, with one interception that came in the third quarter. He threw for 149 yards and was responsible for the two Hornet touchdowns.
"We had a lot of mental busts on offense and execution; it kind of took its toll and exposed our offense a little bit," Safron said.
In the second quarter Safron was substituted by redshirt freshman Daniel Kniffin, he went 5-for-8 with 35 yards. When asked why he was replaced Safron declined to comment.
Safron did return to the game.
In the second half, the quarterback shifted the momentum in favor of the Hornets with a 73-yard touchdown run cutting the Bear's lead to 45-14.
"I thought someone was trailing me trying to knock the ball out so I kept on looking around, but I guess I was in the clear so it was a good run," Safron said.
This is the longest recorded run by a Hornet since Ryan Mole's 87-yard rush against Northern Arizona in 2004.
Despite Cal's efficient offense, Sac State's defense in the second half limited them to 10 points with one touchdown and a field goal.
"I think we handled it great, we stayed together and came out in the second half and put some drives together," Safron said. "Unfortunately the scoreboard didn't show that, but we will go back to work and learn from the film."
Middle linebacker Darnell Sankey had a total of 15 tackles, but the defense was unable to put pressure on Cal's quarterback resulting in Goff being able to complete 77 percent of his passes.
"I think we did great as a team for the whole game, never giving up," Sankey said. "We just need to go back to the film room and evaluate what we did, correct our mistakes and move on to the next game. You've got to have amnesia with that stuff."
Leading up to this game, Sac State had a streak of at least one sack in 31 consecutive games. This feat came to an end today.
Cal converted points in all seven of their red zone chances.
"This was a great game to test where we are as a team," Sankey said. "[We need to] limit the big play advantage; they had some real nice deep balls, some big runs and we missed a lot of tackles. I missed a lot of tackles personally."
The Bear's Kenny Lawler had a sensational one-handed catch that resulted in their fourth touchdown in the first quarter.
The coverage was present for Sac State, but Cal's receivers were able to haul in two difficult catches that gave Maurice Harris and Lawler their touchdowns.
"When you play up like this the margin of error is nil," head coach Jody Sears said. "We have to go through these trials; we have to go through this adversity."
The Hornets (1-1) will be facing off against Sears' former team Weber State at home Saturday.