Hornet track relay teams break school records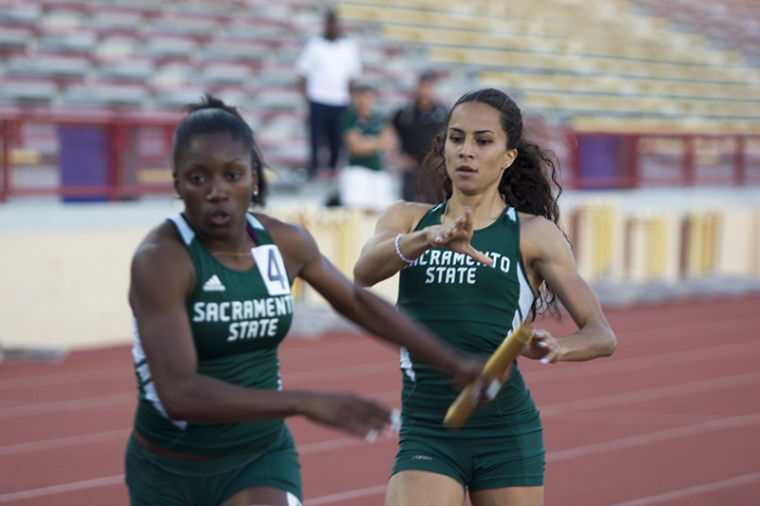 State Hornet Staff
May 6, 2014
The Sacramento State men's and women's track teams lost to rival UC Davis at the annual Causeway Classic last Friday at Hughes Stadium.
The men scored 81 points and the women scored 78 points.
Despite the loss by both the men's and women's teams, the women's relay teams set school records in the 4×100 and 4×400 meter relays, finishing in 45.62 seconds and 3:40.25, respectively.
"It was good to do it in both relays," said junior sprinter Dominique Whittington. "It was a great feeling to have everyone on the track cheering at the end."
Whittington set a meet record in the 400 meter dash while battling food poisoning. She finished the race in 54.08 seconds, besting the record she set in 2013 by 1.07 seconds.
"My teammates didn't let me think about being sick," Whittington said. "I just ran."
Her teammates ran well with her the entire meet.
Sophomore Devin Collins won the 100 meter hurdles with a time of 13.8 seconds, just narrowly missing a meet record of 13.64 seconds set in 2013. Freshman Kristen Robinson finished third with a time of 14.1 seconds and Antonia Currington finished fourth, with a time of 14.2 seconds.
Junior sprinter Caprice Powell finished second in the 200 meter dash, with a time of 23.63 seconds. Whittington finished right behind her at 23.84 seconds. Both times were meet records.
"It's always good to go against Davis because they bring the best out of us," said senior sprinter Morgan Pope. "They're an excellent team."
On the men's side, freshman jumper Richard Cooper finished first in the long jump. His jump of 7.03 meters, 23-00.75 was a meet record, topping the mark of 24-05.50.
Junior thrower Garrett Jacobs finished first in the javelin event. His throw of 54.49 meters was 2.81 meters ahead of second place finisher Kevin Hammer of UC Davis, and 37.98 meters ahead of fourth place finisher Matthew Bender, also from UC Davis.
Senior thrower Alberto Milan finished first in the shot put, with a throw of 17.72 meters. He also took first in the hammer throw, with a throw of 56.84 meters. Senior thrower James January finished second in the discus, with a throw of 50.28 meters.
"The theme was step up this year, and all our seniors did that," Raske said.
The team honored its graduating seniors after the meet Friday. They were recognized for their classroom accomplishments, and what they've achieved on the field.
"I can't say enough about my seniors," Raske said. "It's always so hard to say goodbye to them."
Sophomore sprinter Casey Wheeler finished second in the 400 meter hurdles, with a time of 54.12 seconds. He also placed second in the 110 meter hurdles, with a time of 14.75 seconds.
Sophomore jumper Londeen McCovery finished second in the high jump, with an attempt of 1.95 meters. His teammate, sophomore Billy Eng, finished third at 1.87 meters.
The Hornets will travel to the Big Sky Conference Championships in Flagstaff, Ariz., May 14-17