Softball splits doubleheader with Southern Utah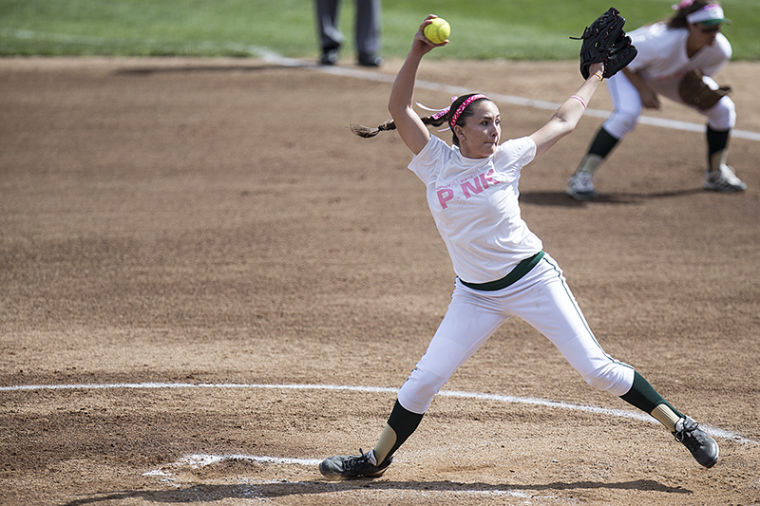 State Hornet Staff
March 29, 2014
Sacramento State softball and the Southern Utah University Thunderbirds split both games of a doubleheader on Friday at Shea Stadium. Sac State dropped the first game 6-4 and won the second game 6-3.
The timely hitting and defense was the difference in both games. In the first game, the T-Birds offense scored four of their six runs with a pair of one-out home runs.
The home runs came in the second and third inning as Southern Utah's second baseman Meagan Neilson and first baseman Madison Resley blasted the two over the left-center fence.
Despite being down four runs after three innings, the Hornets scored three of its own in the fourth.
Sac State hit a homerun of its own, when sophomore first baseman Sasha Margulies sent the ball over the right-center fence. The Hornets scored two more on a wild pitch that scored sophomore pinch runner T.J. Watts and a pass ball that allowed junior shortstop Paige Castro to reach safely at home.
Head coach Lori Perez said she was proud of her team's resilience in the first game.
"The team showed how tough they really are and the confidence that is growing in themselves," Perez said.
The Thunderbirds Katie Greenberg closed out the Hornets to win the game after two more runs were scored when Margulies booted a routine ground ball that would have ended the top of the fifth inning.
Sac State rebounded in the second game as it scored the first two runs combined with sophomore pitcher Kaitlyn Yerby holding SUU hitless in the first two innings.
The Hornets two runs were scored on a two-out, two-run single by freshman third baseman Alexis Martinez. She finished 3-for-7 with two RBIs in the doubleheader.
Sac State would add four more runs in the fourth inning on three straight singles by Margulies, senior second baseman Yesenia Alcala and freshman catcher Nikki Gialketsis.
On the Alcala RBI single, Castro collided with Thunderbirds catcher Lyndsey Healey as she slid at home. Junior right fielder Paige Martin had an RBI as well in the fourth inning when she was hit by a pitch for the 17th time this season, that scored junior left fielder Nicole Clark.
Senior pitcher Taylor Stroud came in the fifth inning and closed the last three innings out allowing one run and only one hit.
Stroud said she wanted to help her team come out with the win in the second game.
"I have to give it up to Coach Willis in how she had me changing up speeds and locations of pitches," Stroud said. "It helped me keep the batters off balance."
Sac State will finish the series against the T-Birds in the rubber match on Saturday, the first pitch is scheduled to be at noon.