Sac State poor with the glove, split doubleheader at USF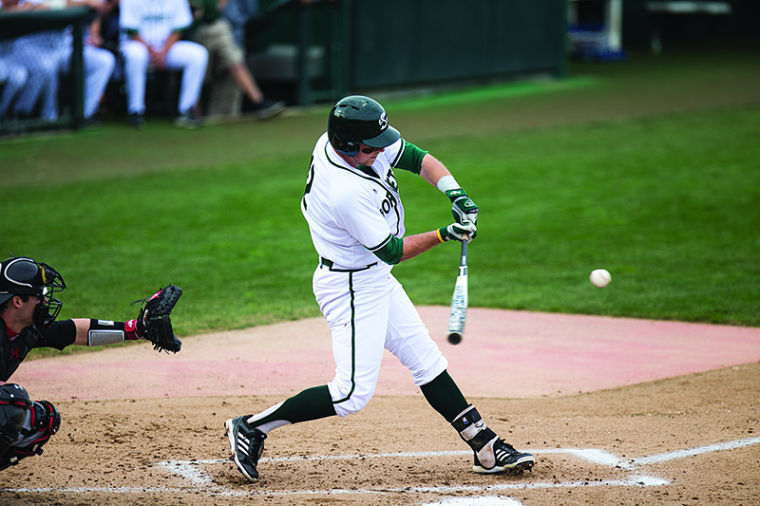 State Hornet Staff
March 2, 2014
The Hornets had trouble defensively, but managed to split their doubleheader against the University of San Francisco, Sunday.
Sacramento State put up a total of nine errors in the two games and now have 18 errors on the season. The Hornets made three errors in game one, winning 6-2, and six errors in game two, losing 9-5.
Sac State was 10th in the NCAA with a .979 fielding percentage in 2013. The Hornets only committed 47 errors last season, and are now averaging 1.5 errors per game.
In the Hornets first game of the doubleheader, they got off to a quick start scoring two runs in the first inning courtesy of a 2-run homerun by freshman designated hitter Ryan Locke. On Saturday, Sac State was held to only one run against USF.
Sac State would add another run in the third inning, which turned out to be all it needed because pitchers, junior Brennan Leitao and junior Alex Palsha held the Dons to only two runs over nine innings. Leitao, who started the game, went six innings, giving up two runs and striking out five. It was his first win of the season.
Palsha came into relief and earned the 3-inning save, allowing only one hit to USF. Palsha has thrown 12 innings out of the bullpen this season and leads the team in strikeouts with 11.
The 1-5 hitters in the lineup combined to go 10-for-24 with six RBIs and six runs scored.
Game two started out the same for Sac State as it took a 5-0 lead into the fifth inning. The Hornets, however, would struggle with pitching and defense the rest of the game giving up nine unanswered runs.
Hornet relievers, junior Dallas Chadwick and senior Hunter Greenwood, combined to throw two innings giving up eight runs, only three of which were earned, on seven hits. The Dons put up back-to-back 4-run innings in the sixth and seventh.
USF was led by centerfielder Bradley Zimmer, who had three hits and and three RBIs. Zimmer was 8-for-14 in the three game series with one homerun, 6 RBIs and four runs scored.
Junior first baseman Rhys Hoskins had his best game at the plate this season going a perfect 4-for-4 with a solo homerun, double and two RBIs. In the field, however, Hoskins had two errors and is now tied for the team lead with four on the season.
Sac State has now lost its second consecutive 3-game series and is now 6-6 on the season. The Hornets will take on Fresno State on Wednesday at Raley Field, the second time they have played there. First pitch starts at 6:35 p.m.