Hornets' softball beats UC Davis in Causeway Cup action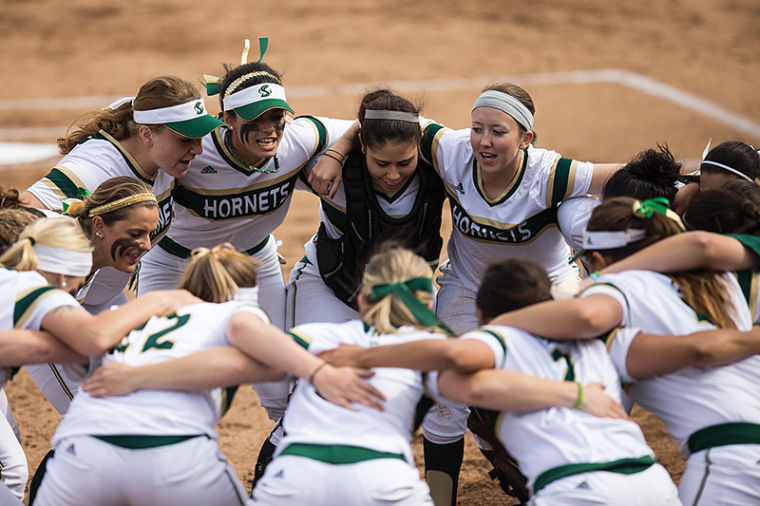 State Hornet Staff
March 4, 2014
Sacramento State softball avenged its season-opening loss to its Causeway Cup rival, UC Davis, in the first home game of the season, Tuesday at Shea Stadium.
The Hornets beat Davis 5-0 with the help of junior shortstop Paige Castro, who went 2-for-3 with one RBI and a run scored.
Sac State scored three runs in the third inning and it started with Castro's RBI double. Junior left fielder Alexa Chattleton drove in Castro a pitch later with a double of her own and then stole third.
Freshman center fielder Shelby Johnston scored Chattleton on a ground out to to give the Hornets a 3-0 lead.
With the two hits, Castro improved her batting average to .344 and she now has five total RBIs on the season. She said it was nice to break out against Davis after being inconsistent with her bat.
"It felt really good because I have been a streaky hitter to start this season," Castro said. "So to help my team in the third inning to drive in the first run of the game for us was really awesome."
It was timely hitting that made the difference for Sac State. While Davis had chances to score in the first, third, fifth and seventh innings, Sac State's defense and junior pitcher Caitlin Brooks made key stops that stymied the Aggie offense.
Brooks said that she and her teammates were embarrassed after Sac State played Davis in the first game of the season.
Brooks went the distance for Sac State, but for UC Davis, it had to use four pitchers in the game. The first two pitchers, sophomores Marissa Chapa and Alicia Paine, were taken out in Tuesday's game after the RBI double by Castro and triple by junior right fielder Paige Martin, respectively.
Both pitchers combined to throw five innings before they were pulled.
Sac State would add two more runs in the sixth inning, thanks to Martin's RBI triple and sophomore first baseman T.J. Watts' RBI single. Sophomore designated player Sasha Margulies, who scored on Martin's triple, slid in at home, taking out Davis' catcher Lauryn Saunders's legs.
Head coach Lori Perez said it was not intentional to hurt Saunders when Margulies slid into home on the play.
"The catcher left her leg out and Sasha slid into it," Perez said. "It was probably the catcher's fault that she had her leg in the position."
Sac State will travel to San Luis Obispo, Calif. to play in the Mustang Classic Tournament starting Friday March 7 against Santa Clara University. First pitch is at 9 a.m.
Clifton can be reached on Twitter at @jonesSHsports